New artwork brings goldfinch charm to Lathallan School
Lathallan School has unveiled a striking mural depicting a beautiful goldfinch organised by pupil-led Eco Club, and created by Auchterhouse artist Ian Tayac - better known as Paco Graff.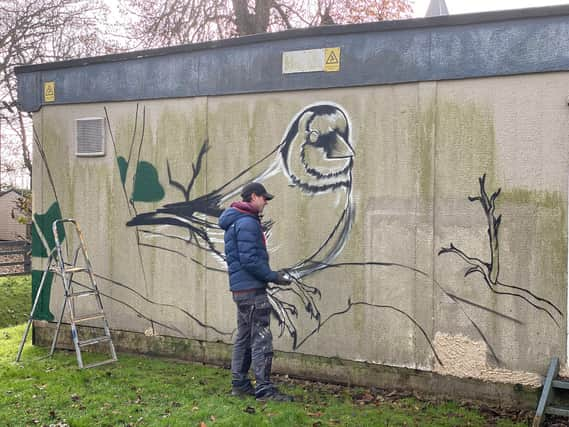 This artwork aims to raise awareness about the importance of nature in the school grounds and celebrate the diverse bird species that inhabit the area.
The Lathallan School Eco Club is driven by pupils across the Junior and Senior School who are dedicated to environmental preservation. Pupils actively engage in various ecological projects, such as promoting sustainable practices, organising community clean-ups, and raising awareness about local wildlife.
Funds were raised to commission this mural through the Eco Club 'Rag Bag' scheme. This scheme increases awareness about textile recycling and by increasing recycling rates it can help the environment by ensuring less material goes to landfill.
The mural, created by the talented Paco over two days, captures the grace and beauty of the goldfinch in vibrant colours. Pupils at Lathallan regularly use a bird sound monitoring app - Merlin Bird ID - and with the goldfinch being a prominent visitor to the school's surroundings, it was agreed that the mural would serve as a visual reminder to live and work in harmony with our surroundings.
Headmaster Richard Toley said: "We are already completely charmed by our resident goldfinch. It's just brilliant.
One of the pillars within our school strategy is our Environment, committing to delivering on our Ecological Pledge as stewards for our grounds, enhancing biodiversity. It's a nod to the great work our pupils are doing to drive this."
Lathallan School was recently awarded it's sixth Eco-Schools Green Flag Award, celebrating 15 years of involvement in the Eco Schools programme in 2023/24.
Head of Science, Mrs Jordan said; "It's great to have the Eco-Schools programme as a platform for young people to make an impact. At Lathallan, our pupils have wholeheartedly embraced this initiative and have made significant contributions to the core topic of Climate Action, as well as two additional topics - Food and the Environment, and Energy."
The Eco-Schools Scotland Green Flag Award Assessment Feedback commended Lathallan School's efforts, stating: "Congratulations to everyone at Lathallan School for achieving an amazing 6th Eco-Schools Scotland Green Flag Award! You have worked really hard on your wide-ranging actions to make your school a more environmentally friendly place to be."