Neighbours ends 37-year run with nostalgia, emotional reunions and wedding joy
Neighbours has closed out its final moments with emotional reunions, a joyful wedding and a nostalgic tribute to past and present stars.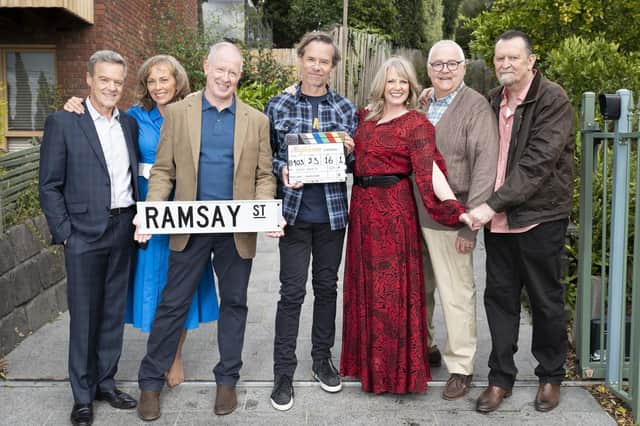 After 37 years on screen, the Australian soap ended with a double-episode special on Friday which featured star-studded cameos from Kylie Minogue, Jason Donovan, Margot Robbie and singer Natalie Imbruglia.
The show first aired in 1985 and followed the cul-de-sac community of Ramsay Street within the fictional Melbourne suburb of Erinsborough.
In the opening of the finale, it becomes clear Ramsay Street as the community once knew it is coming to an end as Susan Kennedy, played by Jackie Woodburne, looks at all the houses up for sale around her home.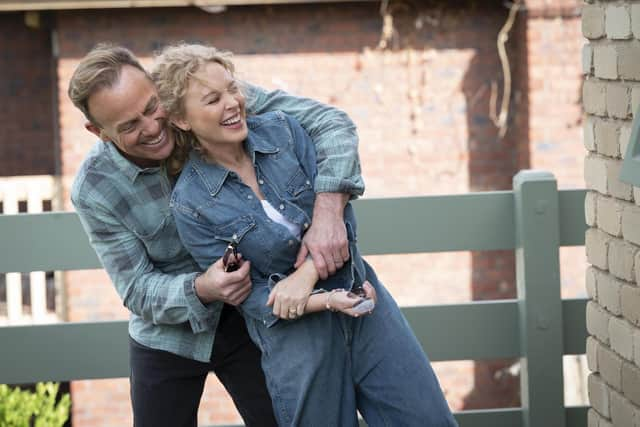 Harold Bishop, reprised by Ian Smith for the closing episodes, tells Susan and her husband Karl they are the "last of the custodians" of the area and suggests she should write the introduction to their "History Of Ramsay Street" photo album.
Another fan-favourite character to return to their old hunting ground is Mike Young, played by Guy Pearce, who shows his daughter Sam (Henrietta Graham) around the area.
The wedding of Melanie Pearson (Lucinda Cowden) and Toadie Rebecchi (Ryan Moloney) also provides moments of reunion and love as it sees the happy couple tie the knot, and brings Terese Willis (Rebekah Elmaloglou) and Paul Robinson (Stefan Dennis) back together. As the residents of Ramsay Street are at the wedding, Kylie Minogue and Jason Donovan, who starred as couple Scott Robinson and Charlene Mitchell in the 1980s, make their long-awaited return to the cul-da-sac in a green mini with a Queensland number plate.
Oscar-nominated Margot Robbie, who played Donna Freedman and is currently filming the live action Barbie movie, also delivers a fond message saying: "My years living on Ramsay Street were honestly some of the best of my entire life."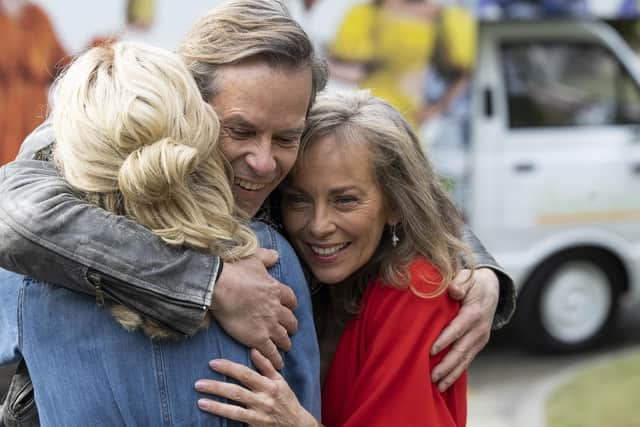 Before the episode aired, Donovan reminisced on his time on Neighbours and credited the Australian soap for a huge part of his successful career.
Donovan, 54, said: "I'm extremely proud of those 37 years that Neighbours shone a light on our culture, that wasn't just a blown-up fictitious version like the Crocodile Dundees.
"It showed the everyday life of how Aussies live.
"It kept a lot of people in my industry employed and developed talent.
"You never forget your roots. To see today the amount of talent that has come back to Neighbours shows just how much that show meant to them."
Reflecting on the musical success of a number of his co-stars, including Kylie Minogue, Holly Valance and Natalie Imbruglia, Donovan said: "When you have a platform like that [Neighbours], even when you look at something like The X Factor, how it creates a story. Neighbours did that.
"It created a story about Scott and Charlene that then people invested [in] if the music was right in that person.
"Something like what Natalie did with Torn, it sort of fitted her character of Beth."
In quotes released by Channel 5 ahead of the finale broadcast, Minogue said: "It feels amazing, surreal and very emotional. We worked with the director we worked with back in the 80s so a few familiar faces. Same houses, same street – there is no easy answer, just a mix of emotions, but very happy. Very aware of the moment."