National Trust for Scotland gets set for Easter celebrations in Aberdeenshire
The National Trust for Scotland is offering the perfect place to make hoppy memories this Spring thanks to Easter trails happening at its properties across Aberdeenshire.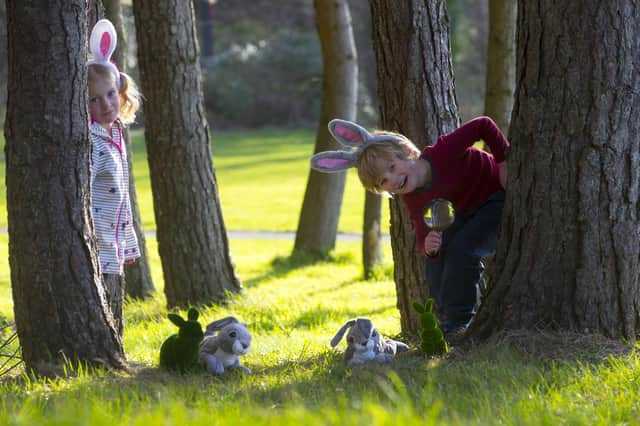 Castle Fraser, Crathes Castle, Drum Castle, Fyvie Castle, Leith Hall, Haddo House and Pitmedden Garden in Aberdeenshire will host family-friendly Easter trails from April 7-10 where visitors can follow the trail, collect the challenging clues to solve a tricky puzzle and win some tasty chocolate-y prizes, with entry to the trails costing £4 per person.
The fun-filled Easter trails challenge chocolate hunters to find a series of hidden clues dotted around the gardens and estates owned and managed by the conservation charity, with each trail offering something completely different, providing the perfect excuse to try out more than one.
Iain Hawkins, National Trust for Scotland Regional Director for the North East region, said: "We're really eggs-cited to launch our Easter trails this year with a bumper number of events taking place at our properties up and down the country.
"The trails offer a fun day out that can be enjoyed by all the family or can be a great way to keeps kids entertained while parents explore our beautiful gardens, historic properties or countryside places.
"The trails across Aberdeenshire support our goal to provide inspiring visitor experiences at our properties, offering nature, beauty and heritage for everyone as part of our vision outlined in our 10-year strategy launched in 2022.
"The funds raised through our Easter trails support our vital work and will allow us to continue to care for and protect Scotland's cultural and natural assets now and into the future for everyone to enjoy."
Castle Fraser, Garden & Estate: Friday 7 – Monday 10 April, 10.30am-4pm (last entry 3pm).
Castle Fraser, near Inverurie, is one of Scotland's largest tower houses, with the construction of the original core of the property dating back to as early as 1450.
The fortified castle, once home to the colourful Fraser lairds, is an inspiring mix of grand halls and towers, with a vibrant walled garden, home to a variety of trees, herbaceous borders and fruit and vegetables, surrounded by extensive parkland.
Crathes Castle, Garden & Estate: Friday 7 – Monday 10 April, 10am-4pm (last entry 3.30pm).
Standing against a backdrop of rolling hills and set within its own glorious gardens, Crathes Castle is every inch the classic Scottish tower house. Built by Alexander Burnett in the 16th century, it was the home of the Burnett family for over 350 years.
Drum Castle, Garden & Estate: Friday 7 – Sunday 9 April, 10am-4pm (last entry 3.30pm).
One of Scotland's oldest tower houses, Drum Castle, Garden & Estate has a vibrant history dating back to the 14th century, when the Royal Forest and Tower of Drum were gifted to the Irvine family by Robert the Bruce in 1323.
Its medieval architecture was added to over the years, with the Jacobean mansion added some time later and the lower hall converted to a library during the Victorian era. The beautiful Garden of the Roses is a garden lovers' delight, with its four quadrants illustrating how roses have been cultivated from the 17th to 20th century.
Fyvie Castle, Garden & Estate, Aberdeenshire: Friday 7 – Monday 10 April, 11am-3pm (last entry 3pm).
The 800-year-old fortress in the heart of Aberdeenshire is an amazing example of Scottish Baronial architecture.
The Castle, Garden & Estate have played host to Scottish royalty throughout the years including William the Lion in 1214 and later Robert the Bruce and Charles I. Home to a vast array of antiquities, armour and artwork, its impressive portrait collection features renowned artists including Raeburn, Batoni, Romney, Gainsborough, Opie, Lawrence and Hoppner.
Haddo House: Friday 7, Saturday 8 and Monday 10 April, 10am-4pm (last entry 3pm).
Haddo House, the elegant Palladian style Scottish stately home, was designed by William Adam in 1732 before undergoing an opulent remodelling in the 1880s resulting in a mixture of Georgian architectural flair and luxurious Victorian interiors.
Once home to the Gordon family for over 400 years, Haddo boasts an extensive art collection, including 85 paintings of Scottish castles by acclaimed Victorian artist James Giles.
Leith Hall, Garden & Estate: Friday 7 – Sunday 9 April, 10am-4pm (last entry 3.30pm).
Leith Hall was home to ten generations of the Leith-Hay family since 1650 before it was donated to the National Trust for Scotland, along with its entire contents, just after World War II, making it one of the most complete collections in the Trust's care.
The collection provides a fascinating insight into the lives of the family over the centuries, with its military exhibition telling the story of many generations of military service. Leith Hall is also home to the Trust's highest altitude gardens, sitting at 186m above sea level and offering spectacular views across Aberdeenshire.
Pitmedden Garden: Friday 7 – Monday 10 April, 10am-4pm (last entry 3pm).
Gifted to the Trust in the 1950s, the Great Garden dates back to 1675, when it was originally designed by Sir Alexander Seton, a retired Court of Session judge during the reign of James VII/II.
Influenced by the French gardens of the Palace of Versailles, its head gardener recreated Pitmedden using parterres with a mixture of manicured topiary, sculptures and built heritage, geometric patterns and fragrant flowers to create an impressive masterpiece. The gardens parterre was reimagined and redesigned by renowned gardener and Chelsea Flower Show gold medalist Chris Beardshaw in 2022.
To find out more about the National Trust for Scotland properties and Easter trails running in April including how to book tickets, please visit www.nts.org.uk/stories/easter-egg-trails-2023​