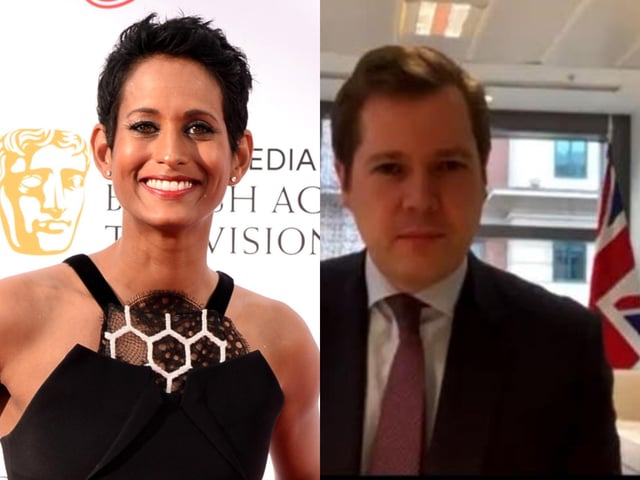 Naga Munchetty and co-host Charlie Stayt commented on the Union flag which appeared behind Robert Jenrick (Getty Images/BBC)
Presenter Naga Munchetty has apologised for liking "offensive" tweets referencing a Union Jack flag displayed in an interview with a government minister.
The BBC Breakfast host, 46, said the likes, which she has since removed, did not represent the views of the broadcaster.
Robert Jenrick was speaking to the presenters via a video call from Westminster and the flag was seen in the background (BBC)
So, who is Naga Munchetty, and why has she apologised for liking tweets about the Union Jack?
Here is everything you need to know.
Naga Munchetty is a journalist and presenter on BBC Breakfast from Streatham, London.
She studied English at Leeds University before taking a postgraduate degree in Newspaper Journalism.
From there, Munchetty broke into the media industry with jobs writing for the city pages at The Evening Standard and The Observer.
Her first television job was at Reuters Financial Television, and she went on to work at CNBC Europe, Channel 4 News and Bloomberg Television.
Munchetty's first role with the BBC was in 2008 when she joined the BBC Working Lunch team.
Six years later, she became a lead presenter on BBC Breakfast.
The BBC revealed in 2020 that Muchetty's salary was £195,000 to £199,999 for her role as a breakfast presenter.
During her successful journalism career, she has questioned countless politicians from Hillary Clinton to David Cameron.
In her spare time, Munchetty is a golfer and plays off a handicap of 9.
She also appeared on Strictly Come Dancing as a contestant in 2016.
Munchetty is married to James Haggar, who is an actor, director and broadcast consultant at ITV.
The pair were married in 2007 after dating for several years, and now live in Hertfordshire.
What happened during BBC Breakfast?
Munchetty and her co-host Stayt faced some criticism online after drawing attention to Robert Jenrick's large Union flag.
Following Thursday's interview discussing the vaccine rollout, Stayt said to Mr Jenrick: "I think your flag is not up to standard size, government interview measurements.
"I think it's just a little bit small, but that's your department really. It's just a thought."
The housing secretary, who was speaking to the presenters via a video call from Westminster, did not respond to the comment.
As the camera panned to the studio, Munchetty was seen stifling her laughter.
She said: "There's always a flag. They had the picture of the Queen though. In the Westminster office I am assuming."
That evening, Mr Jenrick took to Twitter to write: "We're always proud to fly the Union Flag at @mhclg [Ministry of Housing, Communities and Local Govt].
"It's a symbol of liberty and freedom that binds the whole country together."
Why has Naga Munchetty apologised?
Munchetty then apologised for liking a series of "offensive" tweets that referenced the interview with Mr Jenrick and the flag.
She posted a statement to Twitter: "I 'liked' tweets today that were offensive in nature about the use of the British flag as a backdrop in a government interview this morning. I have since removed these 'likes'.
"This [sic] do not represent the views of me or the BBC. I apologise for any offence taken."
The BBC declined to comment.
The corporation's rules state that staff have to adhere to a strict online code of conduct: "Nothing should appear on your personal social media accounts that undermine the perception of the BBC's integrity or impartiality."
Munchetty was rebuked by the BBC in 2019 after she commented on former US President Donald Trump's call for a group of female Democrats to "go back" to their own countries.