More delays for completion of Drummers Corner
The Drummers Corner redevelopment project in Peterhead has been dealt a further blow after one of the glass panels for the new 'Drum' was broken during installation.
The installation of the Ukrainian-sourced glass panels had been the final piece in the jigsaw in the long-delayed project, but now the completion faces yet further delay as the council waits for a replacement.
The Drummers Corner saga has been the source of much debate over the past two years and the delays, mainly due in part to supply chain issues following Covid, have further added to the cost along with the escalating price of materials and construction costs.
With the budget spiralling, the council has successfully attracted external funding and says it is now comfortable that the costs are comparable with other similar initiatives. Councillors will discuss lessons learned from the project in a report to go before committee later this month.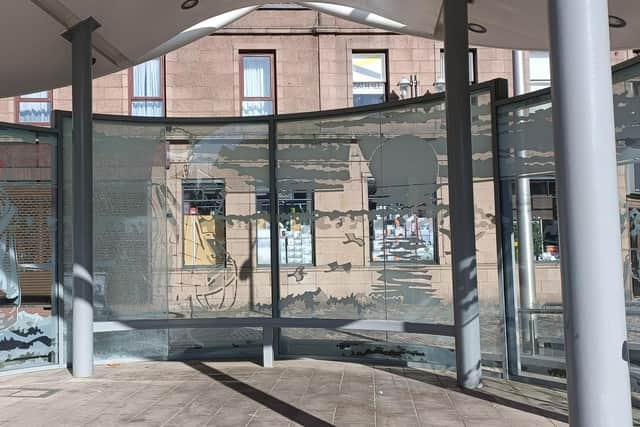 In a statement issued on Friday it stated: "We were delighted to see the curved glass panels with the imaginative artworks depicting the past, present and future of Peterhead being installed this week. Unfortunately one of the panels was smashed during installation and we are contacting the supplier to seek a replacement as soon as possible, although we are conscious there will be a lead in time to the manufacture and fitting of the glass."
Alan Wood, director of environment and infrastructure said that the past two years had proved "most challenging" for construction projects of all kinds, but none more so than with bespoke parts of projects which relied on specially-manufactured elements.
"We have very little control with regards to supply chains, particularly when global events play out as they have in Ukraine. There was a choice to complete the project, compromise the quality of finish, or leave it incomplete," he said. "We have decided to complete it to ensure we have a quality space in the middle of Aberdeenshire's biggest town for many years to come."
Buchan Area Manager Amanda Roe added: "We will make every effort to get the project completed so we can open up the area to more activities for all ages to enjoy and encourage increasing visitor numbers to our town."