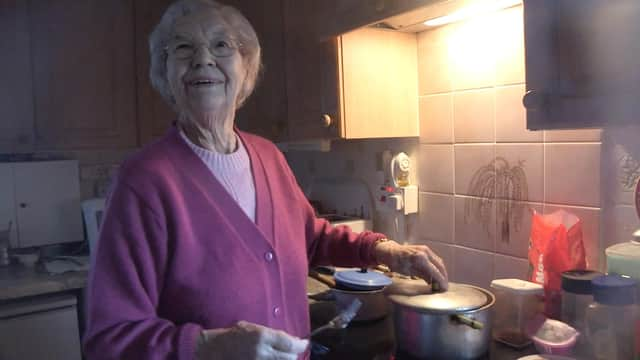 Molly Forbes passed away peacefully on Sunday at a nursing home near Dyce with a funeral service held on Tuesday, on what would have been her 97th birthday.
Mrs Forbes lived in her mobile home – which she called Paradise – next to her son Michael's farmhouse at Mill of Menie with Mr Trump offering to buy the land to make way for his Trump International Golf Links.
He described the Forbes' home as a 'pigsty' with personal attacks against their way of life continuing as he pushed on with the development. The Forbes refused to sell.
The Forbes' water supply was later cut off as the golf course got underway.
She won a sea of support from around the world after appearing in the documentary You've Been Trumped, made by Montrose-based filmmaker Anthony Baxter, which focussed on the residents' struggle against the tycoon.
Mr Baxter led tributes to Mrs Forbes. He said: "She was so inspirational, she cared so much and had so much dignity."
Mr Baxter said Mrs Forbes had an "incredible love of the landscape at Menie" and cared deeply for animals. A keeper of hens, she knew the character of her birds intimately and played Radio Scotland in the garden to keep the foxes away, he added.
Trump's treatment of Mrs Forbes and her son led to post bags of mail from supporters around the world as well as unannounced visitors to Paradise from fans hoping to meet her.
Mr Baxter said: "People who came to Scotland from the United States would seek her out. They wanted to meet Molly.
"It was just her lovely nature. She is like the grandmother everyone wishes they had alive. Someone with that wonderful wisdom, that warmth and that ability to connect to someone whether they were three years old or 93.
In 2010, the Forbes' lost their water with Mr Baxter arrested as he tried to establish the circumstances surrounding the loss of supply.
Mr Baxter said: "It wasn't in her nature to complain. She just went to the burn to collect water for bathing and making cups of tea.
"That is the first thing that she would do when you turned up – offer you a cup of tea."
After the water supply was lost, Ms Forbes told photographer Alicia Bruce, whose portrait of Mrs Forbes hangs in Scottish National Portrait Gallery: "All the attention makes me feel like a celebrity and I'm nae. I'm just an ordinary person. I live in Paradise, my home in Menie, but it's feeling less like Paradise these days."
Mrs Forbes, the daughter of a boat captain, served as a Land Girl during World War Two and then worked on farms. Later, she worked in the canteen at Grampian Television.
In 2010, Mrs Forbes raised a judicial review at the Court of Session of the decision to allow the golf course but later dropped her case. Trump International Golf Links originally pursued costs against Mrs Forbes but later withdrew their claim.
Mrs Forbes later said she would "pity" America if Trump was voted in as President.
A message from the Editor:
Thank you for reading this article. We're more reliant on your support than ever as the shift in consumer habits brought about by Coronavirus impacts our advertisers.
If you haven't already, please consider supporting our trusted, fact-checked journalism by taking out a digital subscription.