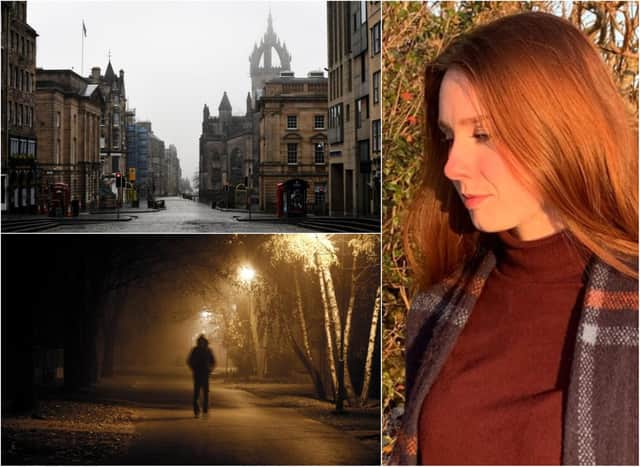 Edinburgh is the city I learned how to keep myself safe in, writes Beth Murray.
It is the first and only city I have ever lived in and it's where I learned how I had to act to try to keep myself safe.
At 18-years-old I was excited to move but coming from a rural farm in the Scottish Highlands, I took my safety for granted.
I asked my sister for her advice when I was applying for student halls because I didn't know the city and she had studied here.
I was offered accommodation in Orwell Terrace and the first thing she told me was that I shouldn't use the underpass after dark.
That was the first time I realised that I had to adjust my routine and lifestyle to accommodate the dangers facing young women.
I'm 22-years-old now and I was going to write that I had never experienced anything that bad in my five years in Edinburgh That is absolutely true, but mild sexual assault and harassment shouldn't only be viewed comparatively.
'Men have stared, groped, catcalled and verbally abused me.'
Chloe, 20, from Edinburgh, who has arranged for a vigil to take place this weekend in the wake of Sarah Everard's disappearance picture: supplied
Men have stared, groped, catcalled and verbally abused me.
They've followed me, exposed themselves to me and told me "what they'd like to do to me".
Those are just some examples and while they are all unpleasant, as I was listing them, I couldn't help but feel grateful that that's all I have had to deal with.
Edinburgh is the city I learned how to keep myself safe in.
To prevent becoming the victim, because apparently there's no way yet to prevent the men from doing the harassing, I do the usual things like carry a rape alarm and let people know where I'm going to be.
I almost never walk alone at night but sometimes it is unavoidable, in these cases I call friends or pretend to be on the phone, I don't wear headphones and I walk in the middle of quiet roads so that nobody can sneak up on me.
I do the classic move of keys between my fingers but if someone actually got close enough for me to have to use them, I'm not sure how much help they would be.
When I feel most vulnerable
I took up running because I felt uneasy knowing that if someone chased me, I wouldn't be able to run away.
The irony is that taking it up has helped my mental health enormously, yet going for a run is the time of my day when I feel most unsafe.
One particular incident has stuck with me more than others; I was 19-years-old and unusually, I was walking home alone after a night out, my phone had died and I couldn't get an Uber or a taxi.
While walking I noticed someone on the other side of the road going at a similar pace.
I freaked out a little and stopped briefly to pretend to make a phone call, he stopped too.
I continued to walk and within 20 minutes I had made it back to my flat, with the man still on the opposite side of the road.
I had my keys in my fist, ready to unlock the door.
As I shut it behind me, I looked out into the street and the man had stopped, he was staring directly at me but didn't move.
I slept in my living room that night because I was too scared to go into my bedroom in case he was waiting to see which flat was mine.
What bothers me most about this experience is that I don't know why he did it, he was exerting his power as a man over a young woman by making her feel like she was in danger. Maybe that's all he wanted to do, maybe he spent the walk deciding if he was going to do more, but I don't know, and that is one of the most frustrating parts.
My social media this week was flooded with uplifting messages celebrating female empowerment for International Women's Day
A few days later and those same social media feeds are overwhelmed by the collective fear that we, as women, have to live in.
My heart goes out to her friends and family, she did everything that we all do when we are by ourselves, yet despite that, this utterly horrific thing happened to her.
She is why we can't justify downplaying the nervous feeling in the back of our minds, the one telling us we're being silly and that nobody is following us.
It isn't quite right to say that I always feel unsafe, I don't constantly live in paralysing fear, but the point is that I never feel completely comfortable.
Is it foolish to let my guard down?
Even though all my experiences are based on being a young woman in Edinburgh, I don't doubt that when I move elsewhere the same feelings will follow, probably more prominently as I will be back to square one in a new area.
On Twitter, someone pointed out that it's "not much use feeling safe if you aren't actually safe" and that really struck a chord with me.
I want to be independent and confident but unless I'm given reason to believe that I'm actually safe, I genuinely think I'd be foolish to try to convince myself that I should let my guard down.
A message from the Editor:Thank you for reading this article. We're more reliant on your support than ever as the shift in consumer habits brought about by coronavirus impacts our advertisers.
If you haven't already, please consider supporting our trusted, fact-checked journalism by taking out a digital subscription.