Dorian T. Fisk is representing Scotland in drag's answer to Eurovision, and they are calling for more king representation on the scene.
"Quite often people know what a drag queen is," says Dorian, from Glasgow. "But not what a king is. My definition of drag is a performance of gender."
The 48-year-old takes to the stage as characters ranging from an old man to a sea creature, dragula, Jack Frost and even Gay Rights Jesus.
Outside of drag they identify as a genderqueer woman – meaning they identify somewhere other than the binary categories of 'man' and 'woman' – and their preferred pronouns are they/them.
They say: "I try to steer people away from this mainstream view of drag as performing the opposite of your own gender. It's not that binary, it really isn't.
How to define a drag king?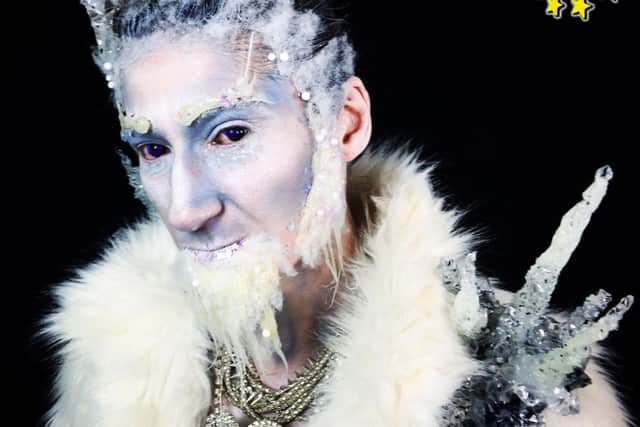 "It's the performance of masculinity, across the spectrum of masculinity. There's effeminate men out there that are very masculine and then there's 'macho' men," Dorian says.
"It's performing that in an exaggerated or entertaining way. Or taking topical things that are going on but doing that in the form of masculine gender expression on the stage. That's a drag king."
'I fell in love and was cast into the world of gayness'
Dorian didn't always know they wanted to be a drag king.
"I was married to a man in a straight relationship," they say, "Then I fell in love with a woman and found myself cast into the world of gayness in Shanghai."
A move to China for a 'gap year' ended up lasting around 30 years. It was there Dorian was first exposed to the world of drag kings, while working as a backstage manager at a cabaret and burlesque show in one of the biggest cities in the world.
"I remember peering behind the curtains [onto the stage] and got a taste for it," they say, "It opened a whole world of possibility. I haven't looked back since."
Their "hyper-masculine" drag started out as a burly construction worker, then it developed to emulate lead singers in '80s rock bands, with a dash of Johnny Depp thrown in.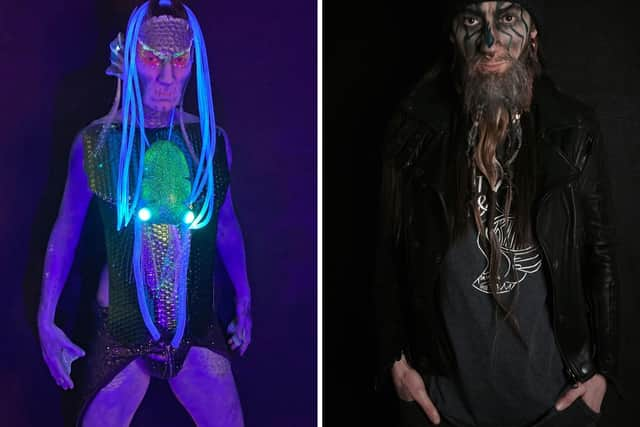 There Dorian honed their craft, with a mix of comedy, dancing, lip sync and burlesque. Then they moved to Glasgow three years ago and have been trying to help the drag king scene grow.
Dorian says: "There's a variety of faces performing as kings in Scotland, some of them are cis men, some gay women.
"Anybody can do drag. It doesn't matter what their sexuality or gender identity is."
(Cis is short for cisgender, which means people who identify as the gender they were born with.)
Dorian continues: "Given what's happened on Drag Race there's going to be a spotlight on Scottish drag. But that's a very small lens on what the drag community really is. Folks will accept what they are presented with. It's not just queens.
"There are 20+ drag kings and drag monsters in Scotland, just as talented as what folks are presented with. At the moment queens are given many more opportunities.
"I'm trying to carve out more of a platform while the emphasis is on drag. Let's present the audience with something that's accurate representation of the drag pool that's here. There are some fantastic entertainers here."
Throughout lockdown Dorian has been hosting online workshops for people to discover their 'inner king' and hone their first show, called Shut Up and King.
They have reached people up in the Highlands, who may not have ever been exposed to drag where they live.
But what does being a drag king mean to Dorian? Why do they do it?
"It's been a journey of personal creative expression," they say, "I have, through drag, rekindled an interest in performing I've had since childhood.
"It's enabled me to understand my gender is something that's not binary. It's been a way to rediscover who I am after years being in a heteronormative box."
For those who may not know, heteronormativity is the view that heterosexuality is the 'norm' and 'preferred' expression of sexuality – and gender can only be binary.
"The media tells us what you need to be if you're a woman and who you are supposed to find attractive," says Dorian, "I haven't always had this level of self awareness and freedom to express myself.
"So to not only now be living with complete authenticity, and also getting to create art through drag performances and drag workshops, is a privilege and brings a fresh source of meaning and purpose to my life."
Dorian is representing Scotland in the EuroStars drag contest finals alongside fellow Scottish drag act Purina Alpha.
"I want to make sure the queens get a good run for their money," Dorian says, "It means a lot to me to make sure the kings get represented. It's a step in the right direction."
EuroStars will be broadcasting across the globe from May 1, and Dorian T. Fisk will feature in the first episode.
You can catch the show on Amazon Prime, Sky, and Freeview.
A message from the Editor:
Thank you for reading this article. We're more reliant on your support than ever as the shift in consumer habits brought about by coronavirus impacts our advertisers.