McIlvanney Prize: How a goldfish named McCoist helped net crime writing prize
Callum McSorley, 33, was named winner of the prestigious McIlvanney Prize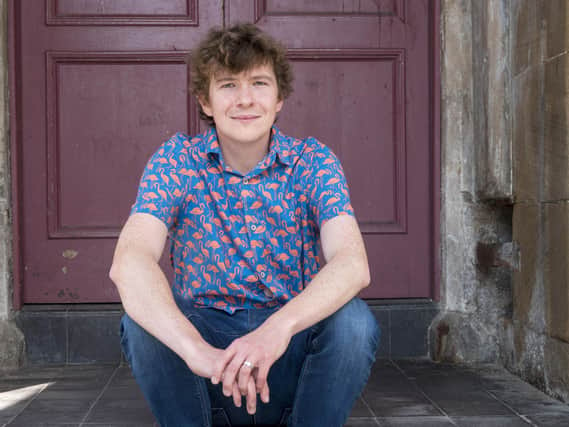 A first time author who won the prize for Scotland's best crime book of 2023 after naming his fictional detective Ally McCoist has told how he will write more after gaining approval from his leading character's footballing namesake.
Callum McSorley, 33, was named winner of the prestigious McIlvanney Prize at the weekend for his debut novel Squeaky Clean -- starring DI Alison "Ally" McCoist, "the least popular detective in the Glasgow police who has been demoted".The "dark and funny" novel was inspired by his years working in a carwash in Glasgow's East End, while the McCoist was originally named after a friend's goldfish called "Coisty".He was presented with the award during a ceremony at the Albert Halls in Stirling as part of the annual Bloody Scotland international crime writing festival.The prize, named after the late William McIlvanney, the "father of Tartan Noir", included a giant inscribed whisky glass trophy from sponsors The Glencairn Glass, £1000 and nationwide promotion in Waterstones.Father of two McSorley beat previous McIlvanney Prize winners Craig Russell and Denise Mina as well as 2021 Debut Prize winner Robbie Morrison, who were also on the shortlist, while Sir Ian Rankin and Val McDermid made the longlist.He said: "It's incredible to win because the longlist was absolutely insane. It had some of the biggest names in Scottish crime, like Ian Rankin and Val McDermid."Then I got to the final alongside people like Denise Mina, Robbie Morrison and Craig Russell, who's won it twice."So winning is hard to believe. It's a very surreal moment. Since the book was published there have been a lot of surreal moments but not much more surreal than knowing the real Ally McCoist now knows who I am."The name DI Ally McCoist came about from a friend's goldfish, which was called Coisty. It popped into my head when I was thinking about my main character and I decided it would be funny if I was to go the whole way and name her Ally McCoist so people would make fun of her and she would be irritated by it."The fact that (former Rangers and Scotland legend) Ally McCoist is happy about it, I feel like I've got his blessing, so I can continue."If he wasn't pleased about it I would feel a bit bad continuing on with the character and using his name like that."It's probably not one of the things he thought would happen in his life but he saw the funny side of it."It's exciting to think that a lot more people might read my book now."Squeaky Clean has been described as "a contemporary thriller packed with black humour and hints of Breaking Bad".The judges for The McIlvanney Prize were unanimous in their praise for the book.Bryan Burnett, from BBC Radio Scotland, said: "Although it's dark and gruesome, it's full of laugh out loud lines that still bring you pleasure long after you've finished the book."'Glasgow's least popular detective' is about to hit the big time."Angie Crawford, of Waterstones, added: "Callum McSorley's writing is fresh and exciting, I can't wait to read more."McSorley, who like the football pundit, is originally from East Kilbride, is already planning a second book in the series.He said: "I've left DI McCoist in a precarious position so I definitely want to go back to that. Without saying too much, I'd like to take off from pretty close to where I left her."McSorley said that despite winning the prestigious prize, he will not be carried away by his success.He added: "I'm a full time dad, I look after my kids who are four and one. There is nothing that keeps you grounded like a four year old."McSorley was also on the shortlist for the Bloody Scotland Debut Prize, but lost out to Kate Foster for The Maiden (Mantle), set in 17th century Edinburgh. It is the first time both prizes have been won by debut authors.All the finalists for both prizes led the iconic annual torchlit procession from Stirling Castle through the city's historic Old Town, accompanied by the pipes and drums of the Stirling and District Schools Pipe Band.
Comments
 0 comments
Want to join the conversation? Please or to comment on this article.