McDonald's across Aberdeenshire donate £20k to Kayleigh's Wee Stars
McDonald's restaurants across Aberdeenshire have made a significant contribution to local community organisation, Kayleigh's Wee Stars.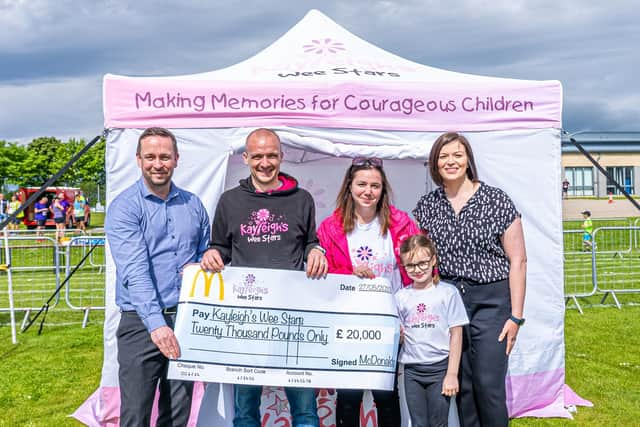 The Oldmeldrum-based charity received a total of £20,000, from the McDonald's team.
Kayleigh's Wee Stars provides financial support for families where a child has a terminal illness. The charity was formed by Jonathan and Anna Cordiner following the death of their daughter, Kayleigh, in June 2012. Kayleigh had been diagnosed with a terminal brain tumour six months before she sadly passed away.
The funds will be used to meet the increased demand the charity is experiencing from families who have a child with a terminal illness and allow them to help more families over a longer period of time.
The donation was made possible by the newly launched 'McDonald's in the Community Foundation', set up by 16 Scottish McDonald's Franchisees, and the 20 McDonald's-owned restaurants in Scotland. The foundation provides a central hub to help distribute funds, raised by the 10p carrier bag charge, to different charities and organisations across Scotland.
Operations Consultant, Craig MacLean, said: "Supporting our local community is of upmost importance to my team and me, which is why I was so pleased to see the McDonald's in the Community Foundation officially launch this year. It means that each restaurant group can make meaningful contributions to charities in the communities that we operate in. Kayleigh's Wee Stars is a fantastic organisation and helping families when they need it most.
"Often people don't think about the financial impact having a terminally ill child can have, so charities like this are vital so parents and family members can focus on supporting their child rather than stressing about monetary issues. We're so pleased to be able to help keep their great work going with this donation."
Jonathan Cordiner, Trustee and Kayleigh's Dad, said: "We're so grateful to McDonald's for this generous contribution – the funds will go a long way in helping families during their most difficult time. We've been experiencing more requests for grants and larger amounts so we are delighted to have this additional sum to ensure we meet those demands."