Matt Hancock diaries: Isabel Oakeshott says Matt Hancock sent her a 'menacing message'
Isabel Oakeshott, the journalist behind the leak of messages Matt Hancock sent during the Covid-19 pandemic, has said she was sent her a "menacing message" by the former health secretary after their publication.
Isabel Oakeshott, who was given the WhatsApp exchanges by Mr Hancock while they were collaborating on a book about the pandemic, said it was clear he was not happy after she gave him no advance notice about what she was doing.
"I received a somewhat menacing message at 1.20 in the morning. I am not going to repeat what was in the message. I think you can easily surmise whether Matt Hancock is my friend at this point," she told TalkTV's Piers Morgan Uncensored.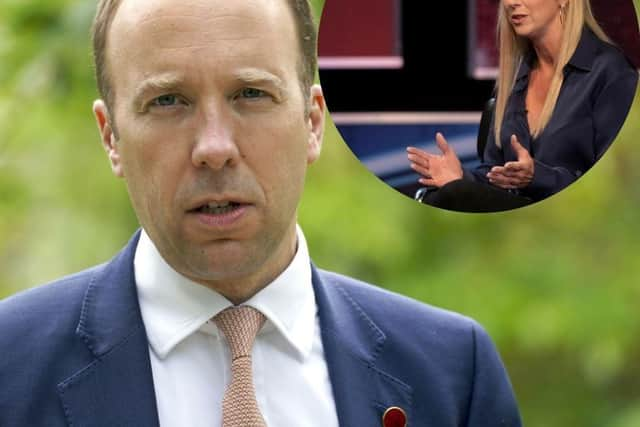 Pressed on the claim, which Mr Hancock denies, that he sent a threatening or menacing message to her, Ms Oakeshott declined to withdraw the claim.
Oakeshott told BBC Radio 4 the day after her appearance on TalkTV: "Do you know what I'm not going to do, because it wouldn't be pretty, is get involved in a slanging match with Matt Hancock.
"He can threaten me all he likes. There are plenty of things I can say about his behaviour, by the way, that I'm not going to do – at least not at this stage – because this is not about Matt Hancock. It is so much bigger than that.
"I'm saying that he sent me a message at 1.20am in the morning. It wasn't a pleasant message."
Ms Oakeshott confirmed that she broke a non-disclosure agreement to pass the messages but said she believed she was acting in the public interest as it could be years before the official inquiry into the pandemic reports.
"The reality is that this inquiry, which I think is absolutely critical, will likely not come up with any conclusions, left to the Government's own devices, perhaps for at least a decade or more," she said.
"This resource that I had is an extraordinary way to quickly get to the truth of what happened. I think the public interest is overwhelming."
The Telegraph has published a string of stories based on the messages sent by Mr Hancock, other former ministers and advisers in the government of former Prime Minister Boris Johnson.
In a statement, Matt Hancock said: "I am hugely disappointed and sad at the massive betrayal and breach of trust by Isabel Isabel Oakeshott. I am also sorry for the impact on the very many people – political colleagues, civil servants and friends – who worked hard with me to get through the pandemic and save lives.
"There is absolutely no public interest case for this huge breach. All the materials for the book have already been made available to the Inquiry, which is the right, and only, place for everything to be considered properly and the right lessons to be learned. As we have seen, releasing them in this way gives a partial, biased account to suit an anti-lockdown agenda.
"Isabel and I had worked closely together for more than a year on my book, based on legal confidentiality and a process approved by the Cabinet Office. Isabel repeatedly reiterated the importance of trust throughout, and then broke that trust.
"Last night, I was accused of sending menacing messages to Isabel. This is also wrong. When I heard confused rumours of a publication late on Tuesday night, I called and messaged Isabel to ask her if she had 'any clues' about it, and got no response. When I then saw what she'd done, I messaged to say it was 'a big mistake'. Nothing more."
Oakeshott called his comments "ridiculous" stating: "What a ridiculous defence. For someone who's as intelligent as Matt Hancock to issue a statement saying there is no public interest in these revelations is patently absurd. And he knows that very well."
According to the latest revelations, Matt Hancock was involved in a bitter behind-the-scenes clash with then-education secretary Sir Gavin Williamson over moves to keep schools open during the Covid pandemic, according to the latest tranche of leaked messages published by The Daily Telegraph.
He said they needed to fight a "rear-guard action" to prevent a "policy car crash" when children returned to the classrooms and started spreading the disease.
The latest messages feature an exchange between Mr Hancock and Emma Dean, a special adviser, during a Zoom meeting in which Sir Gavin convinced the prime minister the January reopening should go ahead despite concerns about the second Covid wave then gripping the country.
Ms Dean said the education secretary was "freaking out", adding: "You can tell he isn't being wholly rationale. Just by his body language."
Mr Hancock replied: "I'm having to turn the volume down."
At the end of the meeting, Mr Hancock said: "I want to find a way, Gavin having won the day, of actually preventing a policy car crash when the kids spread the disease in January. And for that we must now fight a rear-guard action."
At Prime Minister's Questions, Rishi Sunak defended the public inquiry as the "right way" to scrutinise the handling of the pandemic and urged people not to focus on "piecemeal bits of information".