Martin Luther King Jr Day 2021: when is it, why we celebrate the social rights activist - and best quotes
The baptist minister was assassinated by James Earl Ray in 1968
More than 50 years after his death, Martin Luther King Jr's legacy lives on.
A chief spokesperson for nonviolent activism and one of the leading figures of the civil rights movement, his words live long in the memory of millions worldwide.
Americans still observe his influence in the peaceful protest against racial discrimination to this day, with a federal holiday in the US observed in his honour.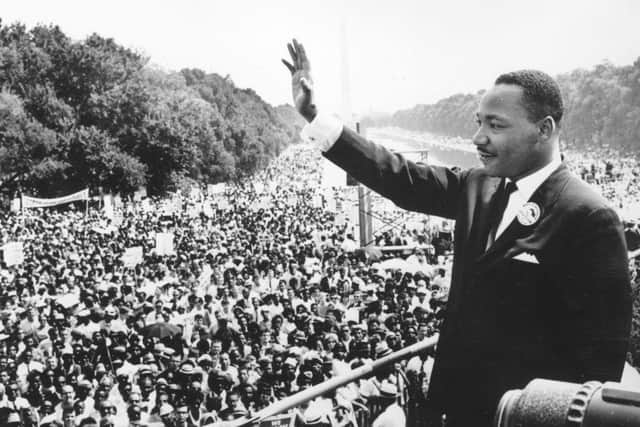 When is Martin Luther King Jr Day?
Martin Luther King Jr Day is an annual holiday to mark the birthday of the former American Baptist minister and civil rights activist, held in his name.
He was born on 15 January 1929 in Atlanta, Georgia.
MLK Day takes place across the US on the third Monday of January, between 15-21, every year since 1986 - three years after president Ronald Reagan wrote the holiday into law.
This year, Martin Luther King Jr Day will take place on Monday 18 January.
Many observe the day by volunteering in the community or for local charities. Barack Obama served lunch at Washington soup kitchen on MLK Day in 2010.
Do other countries observe Martin Luther King Jr Day?
Countries outside the US also recognise the life and achievement of Martin Luther King Jr.
The Canadian city of Toronto officially observes the day, although it is not a paid holiday, while Israel holds a presidential ceremony and has a national forest named in his honour.
Hiroshima, in Japan, also recognises the day as mayor Tadatoshi Akiba holds a special banquet as an act of unifying the city's call for peace.
And every year the town of Wassenaar, in the Netherlands, holds a tribute and dinner which sees young people and civil rights veterans come together on the last Sunday in January.
How did Martin Luther King Jr die?
The campaign for a federal holiday in his honour began shortly after he was assassinated in 1968.
King was shot at the Lorraine Motel in Memphis, Tennessee, on 4 April 1968 and died later that same day at St Joseph's Hospital.
Who killed Martin Luther King Jr?
American fugitive James Earl Ray was convicted of assassinating Martin Luther King Jr, entering a guilty plea to forgo a jury trial and the possibility of a death sentence, and was sentenced to 99 years' imprisonment.
This sentence was extended to 100 years after Ray and six other convicts temporarily escaped from Brushy Mountain State Penitentiary, in Tennessee, in 1977, only to be captured three days later. He died on 23 April 1998, aged 70.
What are some of Martin Luther King Jr's most powerful quotes?
"The ultimate measure of a man is not where he stands in moments of comfort and convenience, but where he stands at times of challenge and controversy."
"Darkness cannot drive out darkness, only light can do that. Hate cannot drive out hate, only love can do that."
"I believe that unarmed truth and unconditional love will have the final word in reality. This is why right, temporarily defeated, is stronger than evil triumphant."
"The time is always right to do what is right."
"Injustice anywhere is a threat to justice everywhere. We are caught in an inescapable network of mutuality, tied in a single garment of destiny. Whatever affects one directly, affects all indirectly."
"True peace is not merely the absence of tension; it is the presence of justice."
"We've got some difficult days ahead. But it really doesn't matter with me now because I've been to the mountaintop... I've looked over and I've seen the promised land. I may not get there with you. But I want you to know tonight that we as a people will get to the promised land."