Marine Fire Safety opens NEW MCA approved service station in Fraserburgh
Following a very successful 18 months since their launch in Scotland, Marine Fire Safety (Scotland) Ltd; specialists in firefighting and lifesaving equipment for the marine industry, has relocated into a new MCA approved service station.
The new 1,300sqft facility on Castle Street; which is the only MCA approved service station in Fraserburgh, is a much larger and dedicated space, enabling the team to now service liferafts, lifejackets and immersion suits on site. It will provide space for a much greater stock holding of liferafts, lifejackets and general life-saving equipment, which in turn will increase speed of delivery and accessibility to customers.
The capacity to service a greater number of products at any given time will also increase, which will improve efficiency within the station.
Scott Duguid, Managing Director of Marine Fire Safety (Scotland) said: "The investment in this new facility, stock and a liferaft hire fleet, follows a successful first 18 months in which we have seen our business grow and strengthen.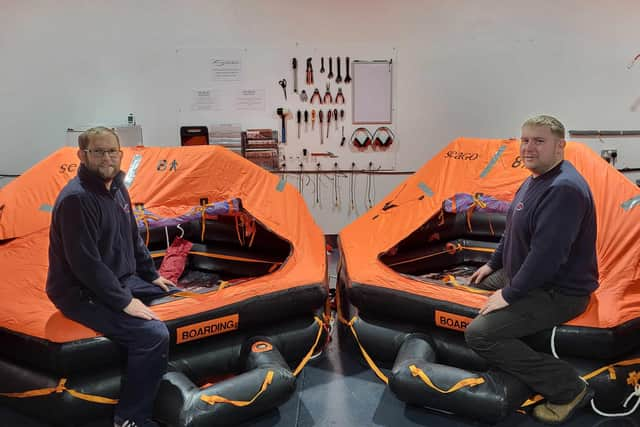 "The objective of this move has always been about enhancing our localised support, service and supply opportunities to our customers, and the response we have received has been outstanding. It is already proving ideal for customers to visit to purchase and collect goods, as well as drop-off and collect items for servicing.
"The MCA approval will play a large role in our continued growth strategy and will enable us to increase our product and service offering, to include liferaft, lifejacket and immersion suit servicing. This approval demonstrates our commitment to delivering the best possible service to our customers, ensuring quality and full support, whilst maintaining a local service station approach; a quality we pride ourselves in."
Scott continues: "We will endeavour to continue to strengthen the business and our support in the hope that it allows us to create additional job opportunities in the future."
The company is led by Andrew Webster (Drewie) and Scott Duguid, a highly experienced team, with a wealth of marine fire and safety industry knowledge, providing customers with complete capability for all their marine firefighting and lifesaving equipment requirements.