Man airlifted to hospital after being swept over waterfall
A man was airlifted to hospital with multiple injuries after he was swept over a waterfall.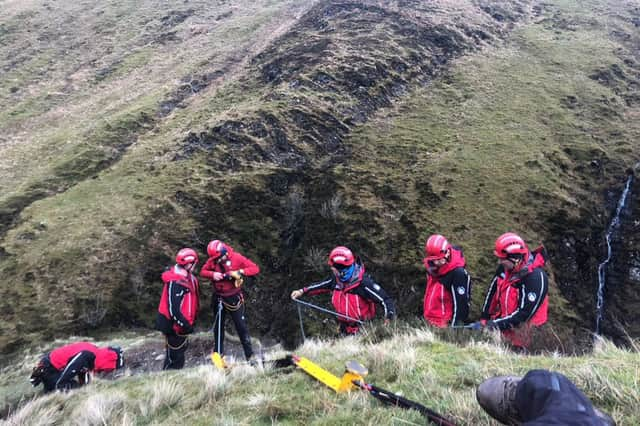 A rescue operation was launched after the man lost his footing and fell into the burn at the Grey Mare's Tail waterfall near Moffat in Dumfries and Galloway.
He was swept downstream and over one of the upper waterfalls, falling between 10 and 15 metres before being swept further along the burn, Moffat Mountain Rescue Team (MRT) said.
Moffat MRT went to the scene along with police, the fire service, coastguard helicopter and the Helimed Trauma Team helicopter when the alarm was raised at 10.30am on Saturday, and battled gusts of up to 40mph as they rescued the man.
The casualty, who suffered broken bones, was winched from the water to a safe location on the path where he was given pain relief and medical attention before being flown to the Queen Elizabeth University Hospital in Glasgow.
James Coles, Moffat MRT team leader, said: "He lost his footing and slipped in. The main waterfall is huge, fortunately he didn't go over that one, but there is a series of upper waterfalls.
"He was swept along the burn then over the waterfall and was then swept further along the burn and somehow he managed to stop himself.
"He was there with friends and they raised the alarm. It was a bit of bad luck, they were trying to take photos of the lovely scenery and it appears he slipped and ended up in the burn."
The main waterfall, which is further downstream from where the man ended up, is one of the highest in the UK and plunges 60 metres from Loch Skeen.
A Moffat MRT spokesman said: "With gusts of wind up to 40mph, all teams involved had a challenging day on the hill before being stood down at 2.30pm."