Macphie marks half century in Glenbervie with £50,000 commitment
A major ingredients firm has pledged £50,000 to good causes as it celebrates 50 years based from its home in rural Aberdeenshire.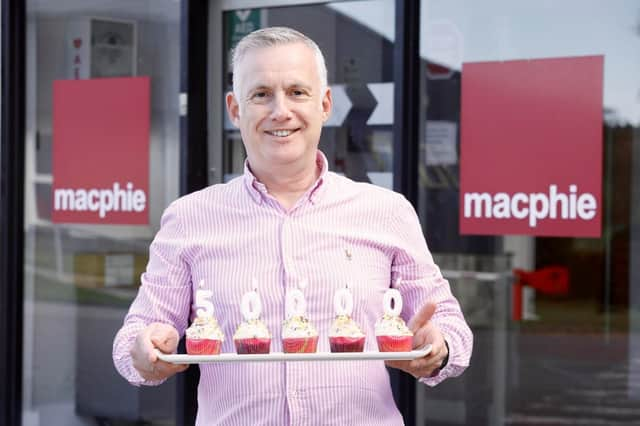 Macphie Ltd has announced its commitment to donating £50,000 this year to charities and community groups in Scotland.
It comes as a gesture of gratitude to the communities which have helped the family-owned firm grow into a major industry player since its move to Glenbervie, near Stonehaven in the seventies.Although established in 1928 in Glasgow, it was Macphie's move in 1973 to Glenbervie which truly laid the foundations for the firm's operational transformation from bakery wholesaler into an internationally renowned ingredients manufacturer - producing cake mixes, sweet and savoury sauces, and desserts, including plant-based and gluten-free options.Andy Stapley, Macphie's CEO said: "This pledge is about celebrating our wider Macphie family, those in our communities who have helped us over decades to build the firm up to what it is today."Although the decision to move our base out of Glasgow to the north-east estate in the seventies intrigued many, establishing operations at our Glenbervie home gave us unique roots for growth, which have been instrumental in our success.
"It was a pioneering move at the time. Operating a global company from a rural base has not always been easy but it's important to recognise Glenbervie and the communities around it as absolutely vital to our business. We're proud to be making the important commitment to supporting worthy local causes."
Cognisant of the importance of the Glenbervie base to Macphie's international success, the firm announced its significant commitment to redirecting funds into communities local to its Aberdeenshire and North Lanarkshire bases.
The food manufacturing titan is no stranger to giving back to the community. In the last 12 months alone Macphie has donated over £31,000 to over 100 causes such as local youth football teams, events in the area and supporting the committees behind local golf courses, green spaces and play parks.
The company's biggest single donation will see £30,000 paid out over three years to fund the development of a walking route in Kincardineshire between St Cyrus and Cove. This route will form part of the wider Queen's Jubilee Coastal Path, stretching from St Cyrus to Banffshire.
Andy added: "The past 50 years at Glenbervie has seen huge success for the firm and the community have played a major part in that. We enjoy being part of such a tight-knit area and are fortunate to employ so many brilliant local staff who have helped Macphie's huge growth.
"From community groups to charities to sports clubs, and everything in between, we are looking forward to hearing from positive initiatives to play a small part in supporting the amazing work around the area."