Lorraine Kelly: what did Scottish presenter say about Caroline Flack - and how did mum of former Love Island host react?
A new Channel 4 documentary shows clips of Lorraine Kelly and Graham Norton joking about Flack, who tragically died last year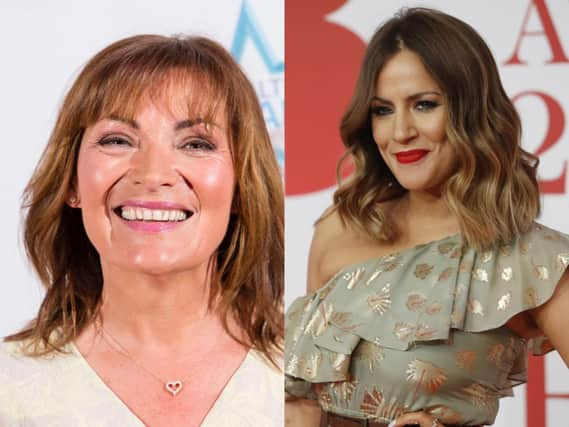 Lorraine Kelly has been criticised for making a "hurtful" comment about Caroline Flack after the late Love Island presenter lost her job.
Flack, who tragically took her own life on 15 February 2020, gave up her presenting role after she was arrested and charged with an assault on her boyfriend Lewis Burton.
So, what did Lorraine Kelly say about Caroline Flack - and how did her mother react to the comment?
Here is everything you need to know.
What did Lorraine Kelly say about Caroline Flack?
In a statement at the time, she said: "Love Island has been my world for the last five years, it's the best show on telly. In order to not detract attention from the upcoming series I feel the best thing I can do is to stand down for series six.
"I want to wish the incredible team working on the show a fantastic series in Cape Town."
A day after the news of Flack's departure from the series broke, presenter Kelly made light of the situation on her eponymous ITV morning show.
She told her audience: "As Caroline Flack steps down from Love Island we'll be finding out who is set to replace her…"
Kelly then joked: "That's showbiz!" as she laughed with co-host Andi Peters.
Viewers were quick to criticise Kelly for her comment at the time.
The clip was aired again as part of the Her Life and Death documentary, which looks at the life of Flack before she died by suicide in her London home last year, as well as her experience of having issues with her mental health.
A joke about Flack's career made by Graham Norton at the 2016 BAFTA Awards was also looked at during the new programme.
Making a quip about her stint on the X-Factor with Olly Murs, Norton said: "I for one really enjoyed the much-nominated Car Share. I think my favourite bit was when Matt LeBlanc did the donut around the cenotaph.
'It was probably the biggest U-turn of the year, unless of course you count Simon Cowell going, "Er, does anyone still have Dermot's number?
"I'm not saying the writing's on the wall for Caroline Flack, but you could get better odds for Anne Boleyn returning to the second series of Wolf Hall."
How has Flack's mother responded to the comment?
Flack's mother Christine responded to the two jokes during the documentary about her daughter.
She voiced her anger at Kelly, saying: "Just to laugh when it was the worst time in Carrie's life and just say that's showbusiness.
"Well it shouldn't be showbusiness. It should not be showbusiness."
Christine also revealed in the programme how worried she was about Flack after Norton's comment.
Speaking about her daughter's struggles with her mental health, she said Flack was "really, really hurt" when the comedian made the joke.
"That's going to make her feel so, so bad - and that's when you'd get worried about her," Christine added.
Flack posted on Instagram about the quip at the time, sharing a quote from poet Maya Angelou which read: "People will forget what you said, people will forget what you did, but people will never forget how you made them feel."
The presenter later told The Sun that the BAFTA ceremony was her "lowest point".
"I was sitting there in my dress, I didn't have a plus one, and Graham's first joke was basically, 'There's more chance of Anne Boleyn returning to Wolf Hall," she said.
"I'm sure it was quite funny but not so much when you're the person living that life, sat in the BAFTAs and the cameras are on you."
Viewers reacted to Kelly and Norton's comments about Flack on Twitter after the documentary aired on Wednesday (17 March) evening.
One wrote: "Graham Norton and Lorraine Kelly aren't bad people but look how something so offhand can add to an already delicate situation."
"Just watching the Caroline flack documentary, wonder what Graham Norton, Lorraine Kelly and others feel like now. She certainly had faults but nobody deserves to be treated like that surely," another said.
What is the Caroline Flack documentary about?
Caroline Flack: Her Life And Death saw friends of Flack including singer Olly Murs and television presenter Dermot O'Leary pay tribute in an emotional, intimate and candid documentary celebrating her life and legacy.
The hour-long programme delved beyond the headlines to reveal the woman behind the public persona, as well as exploring the pressures that fame, mental health, press and social media had on Caroline throughout her life.
Flack's family are hoping that the documentary will encourage viewers to speak out and be more open about their mental health struggles, and seek help where necessary.
"The documentary made this year bearable. It was therapy for us," says her mother in the film.
"Charlie Russell, the director of the programme, was like a therapist for a year."