Lonach Society's 200th year celebrations hits high note with His Majesty The King
A new pipe tune composed as part of the Lonach Highland and Friendly Society's 200th year celebrations has hit the high note with His Majesty.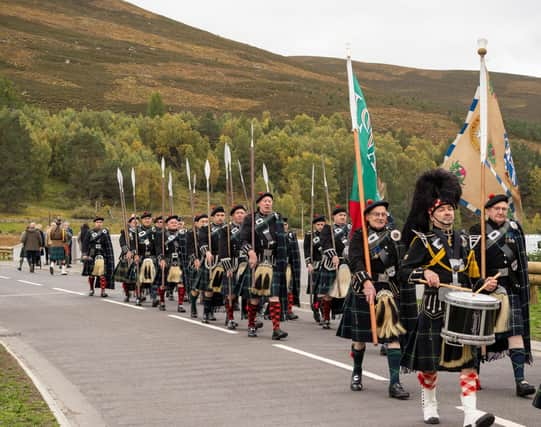 The special song was played by the Lonach Pipe band during the opening ceremony of the Gairnsheil Jubilee Bridge earlier this month.
Entitled The Lonach Highlanders Welcome to the Gairnshiel Jubilee Bridge, the memorable tune was written by fiddle player and founder of Scottish musical group, the Old Blind Dogs, Jonny Hardie.
Mr Hardie is also a Lonach Highlander and great-great-great grandson of founding patron Sir Charles Forbes, 1st Baronet of Newe and Edinglassie who established the society in 1823.
Lonach Society Patron, Sir James Forbes, said: "Piping plays a huge part in Lonach, so we felt composing the special pipe tune was a fitting way to mark the 200th anniversary of the Lonach Society and the opening of the new Gairnshiel Jubilee Bridge. His Majesty praised Jonny's work and thanked the pipers for playing the new tune on the day."
The principal aims of the Lonach Society are the preservation of Highland dress; to support loyal, peaceable conduct and the promotion of social and benevolent feelings among the inhabitants of the district.
Today it is responsible for the organisation of the annual Lonach Games, one of Scotland's most iconic Highland Games, which take place at the Bellabeg playing field in Strathdon.
The main attraction is the march of the Lonach Highlanders, a unique body of non-military men who cover six miles on foot before arriving at the games.
The Highlanders were on hand at the Gairnshiel Jubilee Bridge opening ceremony as the original landmark, which was built in the mid-1700s, plays an important part of the society's heritage, with records of the Lonach Highlanders marching over the old bridge documented in 2015, 1991, and as far back as 1852-60.
Sir James explained: "The old bridge was built as part of the heavy-handed attempt to suppress the Highland way of life after the '45 uprising, yet within 100 years it saw us on our way to meet Queen Victoria in celebration of our proud Scottish Highland heritage.
"Our most recent march over the old bridge officially marked its closure in the presence of His Majesty the King, with the men marching off the new bridge to the sound of the Lonach Pipe Band playing the new pipe tune."
He added: "The event was the third royal outing for us this year – certainly making this special anniversary a memorable one for all involved in the work of the society."
For more information about the work of the Lonach Society visit www.lonach.org