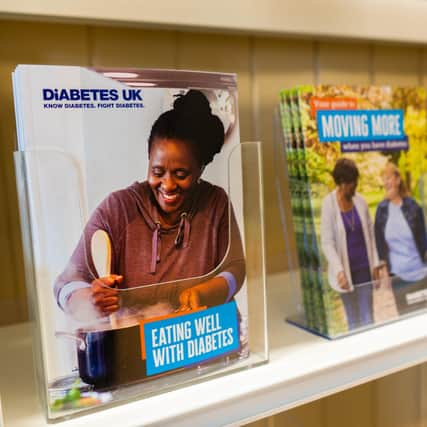 Type 2 diabetes is on the rise in Scotland, and it is hoped that access through community-based libraries to health information, support and services will help people build confidence in self-managing their condition and learn more about how to live well with diabetes.
Resources available within the hubs will also help people understand their risk of developing type 2 diabetes as well as provide information on prevention and remission of diabetes.
The pioneering project is a partnership between Diabetes Scotland, Digital Health & Care Innovation, Scottish Library and Information Council (SLIC), The Health and Social Care Alliance Scotland (the ALLIANCE), and pathfinder libraries in Aberdeenshire, the Borders, Dundee City, Glasgow City and Stirlingshire.
It is part of the Collective Force for Health and Wellbeing Action Plan, which aims to strengthen the role of libraries in working with partners to support wellbeing in their communities.
Diabetes is one of the fastest growing health crises of our time, with more than 327,000 people living with diabetes in Scotland.
Rates of diabetes are rapidly increasing, with diabetes diagnoses more than doubling in the last 20 years.
A large part of this rise is due to the growing rate of type 2 diagnoses.
Early diagnosis is the best way to avoid the devastating complications of type 2 diabetes.
It offers the best chance of living a long and healthy life with type 2 diabetes and possibly even putting your type 2 diabetes into remission.
The new community-based diabetes information hubs are open to all and provide early help and support to adults and carers.
Information is available in hard copy, as well as online and can be downloaded in a range of languages.
Free, online, clinically approved resources available include Diabetes UK's Learning Zone that people can join for advice on what to eat and tips for managing diabetes day-to-day, and Know Your Risk tool which enables you to check your risk of developing type 2 diabetes.
For support to access information online, friendly staff or volunteers based in the hubs are on hand to guide and support.
Angela Mitchell, National Director, Diabetes Scotland, said: "The gap between the richest and poorest in Scotland is widening with people living in poverty over twice as likely to get type 2 diabetes, and over two and half times more likely to experience serious complications.
"So we know there is a real need for communities to be connected to support.
"Local libraries are easily accessible and the familiar and inclusive nature of a local library makes them an ideal go-to place for health and wellbeing information."
She added: "This innovative project will help more people to understand their risk of diabetes and benefit from the wide range of support available to help people live well with the condition."
Ann Wales, Digital Health & Care Innovation Centre said: "The vision and focus of this project aligns with NHS ambition to support people and communities to become active in taking more control of their own health and wellbeing.
"Accessing digital tools and digital skills support in libraries help to ensure that no-one is left behind as health and care services rely increasingly on digital delivery."
Pamela Tulloch, Chief Executive of SLIC said: "The introduction of this network of Diabetes Information Hubs will build on the important services our public libraries already provide, giving people access to important resources, locally and free."
Sara Redmond, Chief Officer, the ALLIANCE, added: "Across Scotland our third sector and public libraries are offering a diverse range of support and life changing opportunities, helping people to live well and addressing social isolation.
"The ALLIANCE has been working to ensure there is cross-sector partnership working so that people can access the support and information they need to support their self-management.
"It is vital that we invest more in these types of preventative approaches, which help people find the right information and support at the right time within their communities."