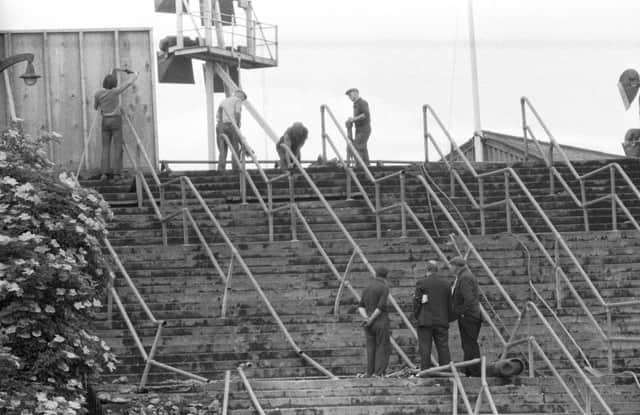 June 1971 - workmen clear the barricades from stairway 13 at Ibrox football stadium, scene of the Ibrox Disaster in February 1971
In terms of winning trophies, and despite sometimes quite spectacular successes by other clubs, since 1890 much of Scottish football has been reigned over by Celtic and Rangers.
In the late 1960s and early 1970s, even though Celtic dominated, various other clubs challenged for and won trophies.
Standing head and shoulders above the rest of the chasing pack was Rangers. Rangers had stood over football in Scotland for around 40 years until Jock Stein's Celtic broke the stranglehold on the pitch in the mid-1960s.
Tributes are paid outside Ibrox this morning in memory of those who lost their lives during the Ibrox Disaster in 1971. Picture: Ross MacDonald/SNS Group
Although Celtic may have conquered the league with nine in a row league titles from 1966 to 1974, and Rangers won nothing from 1966 until a League Cup victory in late 1970, during that period Rangers remained Celtic's main challengers as well as a significant force in European football.
This was a club beaten in the 1967 European Cup Winners Cup Final (which they won in 1972), only a week after Celtic had won the European Cup (beaten finalists in 1970). That is, two clubs from Scotland in two of the three European Football Finals just a week apart. Such heady days in Scottish football are unlikely to be repeated.
Despite Celtic's record-breaking trophy winning run of successes both at home and abroad, when it came to league games between the clubs, on the field of play little separated them for almost four years.
Ibrox disaster - injured fans are stretchered into ambulances outside Ibrox stadium, home of Rangers FC, after the collapse of stairway 13 on January 2, 1971
It is in this sporting context that 50 years ago, on January 2, 1971, the clubs came together at Ibrox Stadium to play in one of the world's great football derbies.
Eighty-thousand supporters attended. However, this was one contest when the result was immaterial. This was because 66 Rangers fans were killed and around 200 injured in an accident on Stairway 13 at the Copland Road side of the ground.
That fateful and dark day is an event seared into the consciousness of Rangers Football Club.
In the immediate aftermath, many in Scotland shed tears and, in a then more Christian society, numerous religious services were held.
Memorial to Rangers fans from Markinch who died in the Ibrox disaster
The Ibrox Disaster of 1971 is one of the worst in British football history. Sitting between Hillsborough (1989) and Bradford (1985), it is the ninth most devastating stadium catastrophe in the history of world football, most arising from crushes and stampedes.
A prevalent view of the time is that after Jimmy Johnstone scored what looked like a late winner for Celtic, and with thousands of disappointed Rangers fans beginning to depart, Rangers' Colin Stein scored an injury time equaliser.
Fans amongst those already departing via the steep slopes at the Copeland Road side rushed back upwards to join their jubilant fellow supporters inside, only to be met by others moving downwards towards them.
The monstrous collision and heaving of bodies led to massive crushing and asphyxiation. This resulted in the huge number of fatalities.
Sixty-six people were killed in the Ibrox disaster in 1971
Nevertheless, this rather simple account of the tragedy was discounted by eye-witnesses, whose evidence demonstrated the accident occurred several minutes after the final whistle and not immediately following Stein scoring.
Contrary to popular belief, the sheer weight of numbers involved meant that it was physically impossible for anyone to have turned around and gone against the solid wall of spectators coming down the stairs.
It is almost certain that someone, maybe more than one, unsurprisingly stumbled going down the stairway, causing others to fall and fans rapidly caving in on each other.
With most departing fans on the stairway not being able to see what was going on around them and, steeped in a football culture of simply shuffling along with others, a crush rapidly developed and intensified.
Critically also, this resulted in the collapse of several steel barriers that ran up the centre of the stairway.
Some eye-witness accounts testified to hearing the barriers creak and bend under the human weight and pressure. Newspaper pictures of twisted railings on the infamous Stairway 13 are striking.
The statue of John Greig at the memorial outside Ibrox Stadium to the 66 supporters who lost their lives in the disaster on January 2, 1971. Picture: Gary Hutchison, SNS Group
There was no escape for many caught up in the crush and 66 people died horrific deaths. Others were physically and psychologically scarred for life.
With the unfolding tragedy being largely out of sight and evolving over the course of several minutes, most fans left by other exits and headed into the cold winter evening.
The players disappeared up the tunnel with a mixture of delight and disappointment at the score. The game was played in an era prior to the wall-to-wall media coverage now familiar with regards to epic football encounters.
Few people therefore even knew what was unfolding on Stairway 13.
Delighted their team had equalised, many Rangers fans departed through other gates unaware that only yards away their fellow supporters were dying. Likewise, some of the players didn't know what had happened until after they had left the stadium.
As match stewards, policemen and soon-to-arrive medical assistance began to descend on the scene, they discovered many fans already dead.
Others injured and dying began receiving treatment, some life-saving.
From the piles of bodies heaped on top of one another, many were subsequently carried from the stairway back towards the pitch and dressing rooms.
Gradually, the dead were harrowingly laid out in a line on the playing field, their bodies covered with jackets and coats. Photographs show Rangers manager Willie Waddell and Celtic counterpart Jock Stein helping the emergency services treat the injured as the dressing rooms were turned into makeshift casualty wards – and morgues.
One surviving Rangers fan, William Mason, was eye-witness to events and had his account recorded in 2004.
"The crush began to be unbearable about halfway down," he recalled. "The crowd stopped moving, but the pressure continued.
"I was trapped, being crushed and lying almost horizontally. I managed to somehow free my upper chest and just managed to breathe.
"Around me I could hear shouting and cries, but as time went on - I was trapped for at least 45 minutes - these decreased until it was almost silent.
"I just wanted to sleep - lack of oxygen - but the man nearest to me slapped my face to try and keep me alert. I stayed conscious throughout until rescued by the police, when I was carried out and laid out on the pitch.
"I was then carried into the stadium and this was the worst part. I could not speak, was barely breathing, cold and in shock.
"I was left in a dressing room where all around me was stretchers with bodies, no sounds and some already covered up. That sent me over the edge and I started crying".
Fathers, brothers, sons, cousins, nephews, son-in-laws, grandfathers, grandchildren all lost their lives. There was one female amongst the dead too, 18-year-old Margaret Ferguson.
The loss included 31 teenagers, five of whom, Peter Easton, Martin Paton, Mason Phillips, Brian Todd and Douglas Morrison, were from the same village in Fife. Nine-year-old Nigel Pickup from Liverpool also died.
The country went into a state of shock when the magnitude of the disaster unfolded. People were united in sorrow.
Messages of sympathy came from all over the world, along with promises of financial assistance for the victims' families.
US president Richard Nixon sent condolences, as did political leaders in New Zealand, Germany and elsewhere. Pope Paul also expressed his sympathies for the casualties, one of many religious leaders to lend a voice to the tributes.
The emotional distress continued as over the following days Rangers players attended a succession of funerals for the victims.
On one day alone, more than 20 took place in Glasgow. In the Stirlingshire town of Slamannan, two brothers, Richard and John McLeay, were laid to rest side by side in the same grave.
On the Saturday after the game, a memorial service attended by more than 3,000 mourners and watched by millions on television took place at Glasgow's Church of Scotland Cathedral.
Crowds gathered at the gates to hear the proceedings broadcast on loudspeakers. There were other religious services held too for the repose of the dead.
At St Andrews' Catholic Cathedral in Glasgow, Archbishop James Scanlon celebrated Mass for the deceased. This was attended by the Celtic first team, directors and representatives of the Celtic Supporters' Association.
Joining also, were Rangers manager Willie Waddell, captain John Greig, numerous players and representatives from the Rangers Supporters' Association. Many Rangers players, officials and fans were especially traumatised.
In its wake, Glasgow's Lord Provost Sir Donald Liddle, who had been at the match, set up a fund to raise money for those who suffered financially.
Rangers donated £50,000 – almost three-quarters of a million pounds today – to the appeal. Celtic also contributed a large sum while there were donations from other clubs around the world.
Rangers and Celtic came together to play a game to raise funds for the victims' families. A combined Rangers and Celtic team took on a Scotland XI at Hampden watched by 81,405 fans.
As the 1970s proceeded, and in response to the enquiries and various other critical evaluations, Rangers FC manager in 1971, and soon to become club chairman, Willie Waddell spearheaded the renovation of Ibrox stadium: the development inspired by that of Borussia Dortmund's 1974 World Cup Westfalenstadion in Germany.
In the 1980s, the new all-seater Ibrox could boast being the most modern stadium in Scotland and one of the best in Britain. Its conversion resulted in it being was awarded UEFA five-star status.
Lord Wheatley's review of safety at all British football grounds resulted in the 1975 Safety of Sports Grounds Act, which enshrined his recommendations in law.
If a club did not meet standards, they would not be granted a stadium safety certificate. This specified total capacity as well as the individual sections within, insisting that entrances and exits met.
As far as sports stadiums were concerned, the Ibrox disaster demonstrated in the most tragic way imaginable that football had a responsibility for the well-being and safety of its mainly working-class supporters.
Despite the transformation of Ibrox, it took the Bradford Stadium fire of 1985 and the Hillsborough Stadium disaster of 1989 to finally convince the rest of British football the Victorian conditions endured by supporters, especially the mass standing terraces, were no longer acceptable.
The victims of the Ibrox disaster finally received apposite recognition by the club when, on the 30th anniversary, along with the unveiling of a statue of Rangers legend John Greig at the Bill Struth Main Stand, a plaque displaying the names of each person killed in 1971 was unveiled at Ibrox.
So also, plaques were raised to remember those killed in two other Ibrox disasters – one at a Scotland game in 1902 when a newly-built stand collapsed and killed 25 people, and another at a Rangers game in 1961, when two fans were crushed on Stairway 13.
The last thing people expect to see when a loved one departs for a football match is that they never return.
The pain and suffering of those that died, those who survived, and the many family and friends connected to all concerned, was, and for many still is, profound.
On January 2, 2021, all connected to Rangers in particular, but also Celtic and Scottish football generally, should pause to recall this terrible tragedy of 50 years ago and to remember its victims with the dignity they deserve.
Rangers joined in 2019 with fans in commemorating those who died in the Ibrox disaster in the 1970s, with tributes laid at the stadium. Picture: John Devlin