Lessons learnt from Drummers Corner project
The lack of a project lead to oversee regeneration works in Peterhead's Drummers Corner has been branded a "major failing" by councillors.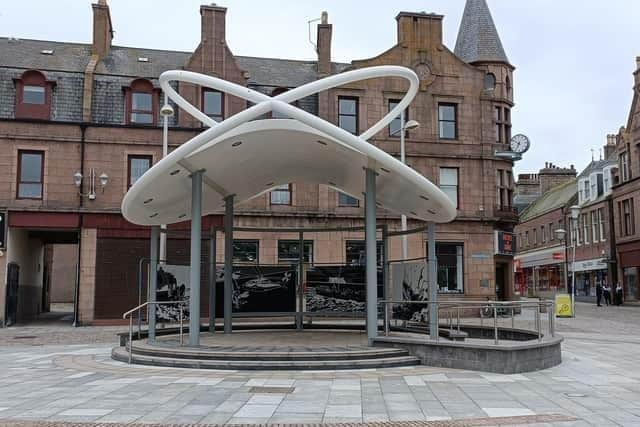 A report recently went before members of the Buchan area committee detailing the lengthy project so far and the lessons that have been learned from it.
It came as members asked for a report into the Drummers Corner redevelopment programme last November.
They specifically wanted to know why the works had taken so long, how much it had cost and if any feedback could be taken on board for similar projects in the future.
Plans to regenerate Drummers Corner first cropped up in 2016 when Choose Peterhead asked residents what they wanted to see in the town centre.
Initially, it was thought that the drum in place at the time would be upgraded along with general improvements in the area such as new lighting and seating.
But over time, the project began to grow in both ambition and cost.
In August 2018, councillors approved a £195,000 budget to allow the installation of a completely new bandstand.
Two years later, Bridge of Don-based KW Contractors agreed to take on the project with an estimated £285,000 price tag.
Works were expected to start in March 2020 and finish in May – just 20 weeks later.
However covid forced the country into lockdown, causing construction to halt on the site and building work didn't pick up again until the following year.
Last August, Aberdeenshire Council agreed a further budget of £388,811 to cover rising construction costs.
Chief planner Paul Macari revealed that there is no final figure for the project as the council is still waiting on a few invoices to come in.
However, it is still expected to be delivered within the current budget.
Buchan area manager Amanda Roe told councillors the project is "very close" to completion, seven years after the idea was raised.
Ms Roe stressed that lessons can be learned from the Drummers Corner project, but blamed covid as the reason for the biggest delays.
But despite the multiple hurdles the bandstand has faced, Ms Roe stated she was "genuinely proud" of the finished product.
She said: "It is bold and unique, and that represents the town and the community. I hope it will become part of the many events that take place throughout the year as well as being a catalyst for some new ones."
Councillor Stephen Smith claimed the lack of a project manager to oversee the site was a "major failing on the part of the council".
He also acknowledged that a "series of unfortunate events" outwith the council's control such as covid and spiralling construction costs had an impact.
But he believed the new feature would be welcomed by Blue Toon residents: "We should remember that people who were engaged in using Drummers Corner as it was wanted a useable performance area as the previous one was unusable."
Mr Smith noted that groups such as Light Up Peterhead, Scottish Week and even Scottish Opera would hold events in the town centre.
But "embarrassingly" they were forced to bring their own articulated lorries to host events as what was formerly in place was "not fit for purpose".
However, the town councillor revealed he had received a lot of positive feedback about the feature, with people seeing how it can be used and benefit the town centre.
He added: "It's not all negative, but there is a major lesson learning exercise to be taken from this."
Fellow councillor Matthew James also believed the lack of any project management was partly to blame for the it taking so long to complete.
"Having that from day one would have kept a tighter handle on the project," he claimed.