Lauch of new interactive adventure around Ellon
An interactive scheme to get people of all ages out into the fresh air and enjoy some exercise while helping a lonely lost Viking has been launched in Ellon.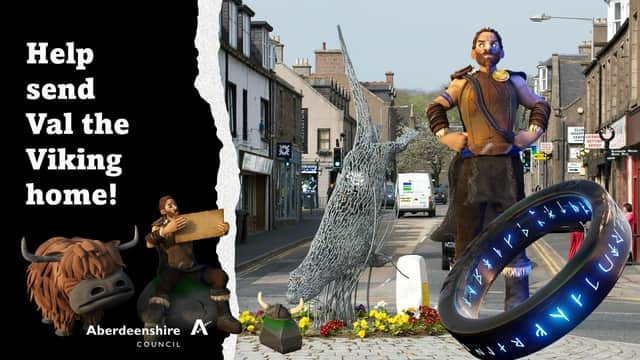 ShireQuest is a blend of online gaming with real-life interaction as participants help Val – brother of Thor, Viking God of Thunder – return to his home in Asguard having been accidentally left behind on a Viking voyage to Aberdeenshire way back in 1000AD.
Adopting the name Val the Forgotten, he's spent the past 1,000 years looking for ways to return home as a true Viking.
Now, after centuries of waiting and hiding in isolation, he discovered the north-east's Getabout campaign and with that the concept of sustainable travel and electric vehicles.
Who needs the bifrost when you have an Aberdeenshire bus pass!
Could you help Val on his quest to return home as the God of 'renewable electricity!'
Sally Weightman, Strategy Development Officer with Aberdeenshire Council, explains: "When you start your quest you'll be given a clue to find your first QR code located somewhere in Ellon. When you find this QR code, scan it and Val will unlock key information to help you on your adventure.
"You'll have to correctly answer a question to unlock your next clue somewhere to help you find the next QR code. Repeat this process until you've unlocked all 5 rings and you will send Val home!"
Funded by Transport Scotland's Smarter Choices, Smarter Places programme, the scheme is firmly focused on encouraging participants to undertake the quest by walking, cycling and wheeling – but can equally be completed using environmentally-friendly modes of transportation such as public transport and electric vehicles.
Sally continues: "Active travel options such as walking, cycling and wheeling helps you build stamina, burn excess calories and even make you healthier.
"Through ShireQuest we will also be encouraging participants to try out our very popular local e-bike hire scheme along the Formartine and Buchan Way."
To start your adventure, visit shirequest.com
Find out more about Getabout and sustainable travel across the north-east at www.getabout.org.uk/