Landscape-scale river restoration by Braemar completed
The River Dee Trust and Fishery Board announced the delivery of one of the largest river and floodplain restoration projects in recent years, with the diggers leaving site after installing the last of 97 large woody structures that have been engineered into the riverbed using the root balls from wind-blown trees at Scolty Woods and Invercauld Estate.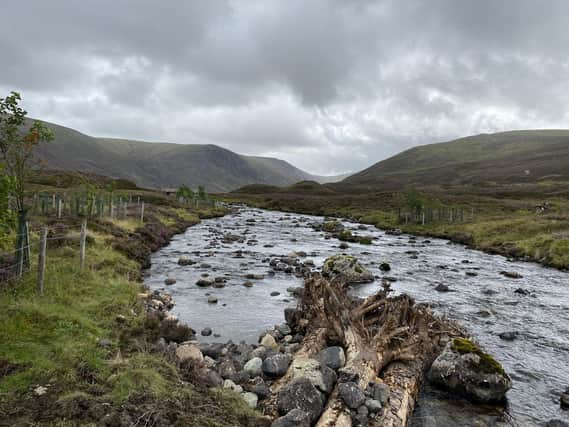 Temperature data has shown the Clunie catchment, which is part of the Dee catchment near Braemar, to be particularly vulnerable to high summer water temperatures. The large woody structures will help create pools of cooler water and also new cover and shelter.
Restoration of natural river processes can help provide complex habitat for salmon and other wildlife, particularly the creation of spawning areas and pools and cover for shelter. Bankside trees will increase food supply, stabilise riverbanks and help shade the river and lower peak temperatures.
Edwin Third, River Operations Manager for the Dee Fishery Board, has been leading the project: "The Clunie is known as a spawning location for early running "spring" salmon so this is a high priority for restoration efforts, think of the Clunie as a nursery for young fish and we are providing the right environment for them to grow in before they move down the river out to sea."
The Glen Clunie River and Floodplain Restoration Project, on Invercauld Estate near Braemar, ran from April 2022 and is ambitious with nearly 10,000 native trees planted, 97 instream woody structures installed, 24 wader scrapes for holding water and wildlife, 60 debris dams to ease water flows, and reconnection of two old flood channels.
Projects of this scale can only come together with collaborative efforts, including in this case from Invercauld Estate, Cairngorms National Park Authority, NatureScot and Forest and Land Scotland who all share an objective of improving habitat for wildlife. Important pre-planning with engineers and contractors also helped the River Dee team to achieve work at this large scale.
Angus McNicol, the chief executive of Invercauld Estate, said: "We are always looking for additional ways to help the sustainability of the environment, economy and local community and this project has fitted into this very neatly. The works have been undertaken in an area used for sporting, farming, recreation and other conservation purposes demonstrating how with close collaboration multiple aims and objectives can be achieved in one place."