International Women's Day 2020: here are some of Scotland's most inspirational women - and their best quotes
Scotland has no shortage of amazing and inspirational women, ranging throughout history to the present day.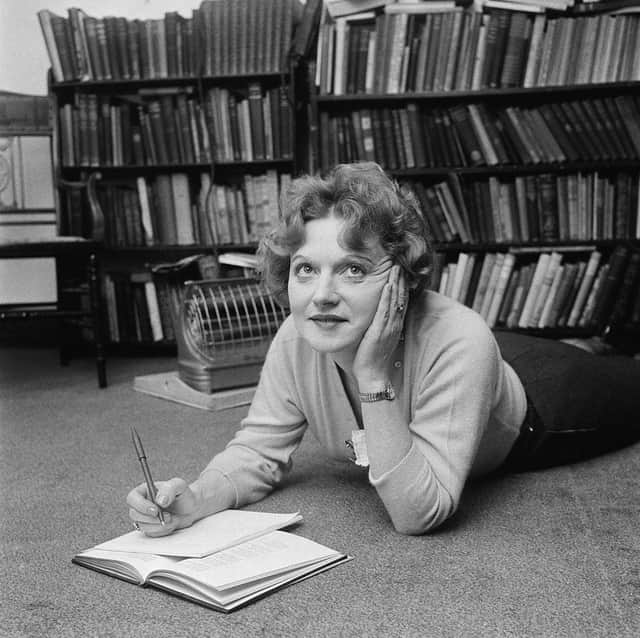 Scottish-born novelist Muriel Spark making notes while lying on the floor (Photo: Evening Standard/Hulton Archive/Getty Images)
Here are five inspirational Scottish women and their best quotes to get you ready to celebrate International Women's Day 2020 this weekend.
Dame Muriel Spark was a Scottish novelist, short story writer, poet and essayist. She was born in the Bruntsfield area of Edinburgh on 1 February 1918. She received her education at James Gillespie's School for Girls and then studied at Heriot-Watt College.
She began writing under her married name after World War II, first beginning with poetry and literary criticism. She became editor of the Poetry Review in 1947, which made her one of the only female editors at the time.
Her first novel, The Comforters, was published in 1957 and her best known work, The Prime of Miss Jean Brodie was then published in 1961.
Spark received many accolades for her work, like the James Tait Black Memorial Prize, the Golden PEN and she ranked as number eight on The Times list of 50 greatest British writers since 1945.
Best quote: "Be on the alert to recognise your prime at whatever time of your life it occurs."
Scotland's First Minister Nicola Sturgeon was born on 19 July 1970 in Irvine, the eldest of three daughters born to Joan Kerr Sturgeon and Robin Sturgeon.
She attended Dreghorn Primary School and then Greenwood Academy. Sturgeon then went on to study Law at Glasgow University, where she graduated in 1992.
After qualifying as a solicitor, she worked for Bell & Craig, a film in Stirling, then later at the Drumchapel Law Centre in Glasgow until her election to Scottish Parliament in 1999.
On 24 September 2014, Sturgeon officially launched her campaign to succeed Salmond as the leader of the SNP. She was formally acclaimed as the first female leader of the SNP on 14 November 2014.
Best quote: "There is nothing in your background that inherently holds you back or means you can't achieve what others can achieve. You are the master of your own fate, and if you work hard, you can do whatever you want."
Singer Emeli Sandé, full name Adele Emily Sandé, was born on 10 March, 1987, in Sunderland, but moved to Scotland when she was four.
She was raised in Aberdeenshire, where she attended Alford Academy. She originally was offered a record deal with Telstar at the age of 16, but turned it down to study medicine at the University of Glasgow, where she left after obtaining a degree in neuroscience.
Sandé signed a record deal with Virgin Records in 2010, where she later signed another deal with EMI Records in 2011.
She had made her singing debut in 2009 after appearing on the track that she had written for Chipmunk's first single Diamond Rings. She decided to go by her middle name as her professional name as Adele had started growing in success, so wanted to stand out.
Sandé has enjoyed a whole host of nominations and awards in her career, including British Female Solo Artist, Critics' Choice Award, Best British Album of the Year and more.
Best quote: "I wanted to find a way to speak for people. It was important for me, because so many people spoke for me when I was a kid and made me feel less invisible, and I wanted kids or whoever is listening to my music not to feel so voiceless."
Scottish singer, songwriter, musician and actress, Shirley Manson is best known as the lead singer of the alternative rock band Garbage.
She was born in Edinburgh on 26 August, 1966. Her first public performance was in 1970 at the age of four at an amateur show held at the local Church Hill Theatre.
In August 1994, Manson joined Garbage, and quickly became the public face of the band - their debut album went on to sell over four million copies, and also enjoyed high charting singles like Only Happy When It Rains and Stupid Girl.
Echo & the Bunnymen asked Manson to sing on their 1997 comeback album.
In 2008, she was cast in her first professional asking role in the final season of Terminator: The Sarah Connor Chronicles as a shapeshifting liquid metal T-1001 Terminator with the name Catherine Weaver.
Best quote: "What makes a woman stylish is what she has to say and how she chooses to live her life."
Val McDermid is one of Scotland's best crime writers, best known for her series of novels featuring Dr. Tony Hill. She was born on 4 June 1955 to a working class family in Fife, and was the first student from a Scottish state school to be admitted to St Hilda's College, Oxford, to study English.
After graduating, McDermid spent two years training in Devon to become a journalist, winning a variety of awards along the way, like Trainee Journalist of the Year. Whilst working in Devon, McDermid first tried her hand at writing a novel - while unfortunately it was rejected by every publishing house in London, McDermid turned it into a script and had the story performed by the Plymouth Theatre Company.
She started writing her novel Report for Murder in 1984, which was then published by The Women's Press in 1987. She gave up her day job in April, 1991, and has been living as a writer ever since. Under her belt, McDermid holds novels, radio plays, short stories, non-fiction and even a children's book.
Best quote: "It's not magic that takes us to another world - it's storytelling."