Innovative new 'Rhinophalt' treatment to be trialed by Aberdeenshire Council in a Scottish first
An innovative new treatment to help extend the lifespan of the region's roads network is being trailed for the first time in Scotland by Aberdeenshire Council.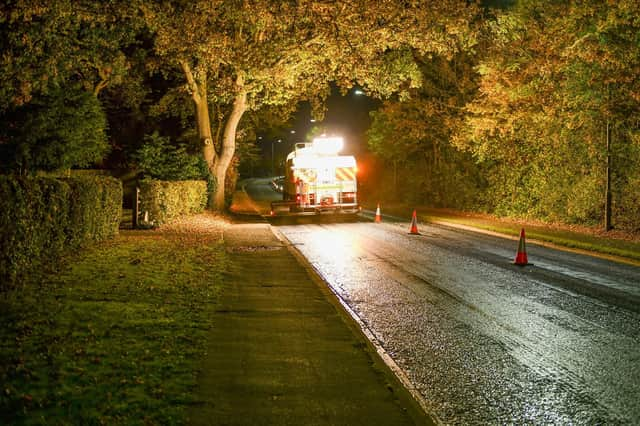 Specialist firm Velocity has been appointed to apply the 'Rhinophalt' preservative treatment developed by ASI Solutions across six sites in Central and South Aberdeenshire.
The process - carried out with just one machine - extends the life of roads assets which are currently in a good condition.
The Aberdeenshire trial will take place over four nights under a road closure to minimise disruption to motorists.
Following a pre-sweep, the product is sprayed onto the road surface with just one pass of the machine, without the need for any compaction of heavy equipment.
As the profile of the road is maintained there is no need to raise ironworks, kerb heights or thresholds which significantly reduces time and cost.
Rapid curing of the product means that line markings can be applied in the same closure window, with the road reopened comfortably in time for traffic.
With more than 3,500 miles of roads to maintain across a wide region, Aberdeenshire Council is always seeking new innovative ways of extending the lifespan of its carriageways.
Philip McKay, Head of Roads and Infrastructure Services, said: "With such a large, rural roads network which is subject to significant vehicle weight and volume, it is vital that we do everything we can to maintain strong road surfaces across the region. There is absolutely no doubt that prevention is better than cure and we are eager to see the results of the Rhinophalt treatment trial."
Gavin Blogg, Head of Business Development at Velocity UK, added: "Rhinophalt penetrates the existing road surface preventing further deterioration by preventing the ageing process and 'locks-in' the current green or light amber condition of the road. When treated again on a five-year cycle, the surface can be maintained for 15 years without the need for costly reactive maintenance.
"We hope that by showcasing the process to local authorities it will actually help them to cut costs while safeguarding their roads network for years to come."