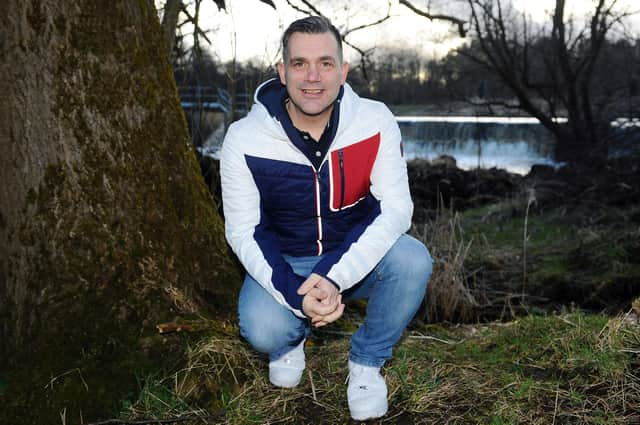 When I first interviewed Dave Cicero in 2019, he was about to play his first live gig in 28 years. Now, almost three decades on from the 1992 release of his debut album, Future Boy, a second is due out later this month. His long-awaited second album was recorded before and during lockdown, but there's one new track, a piece of music that means more to the singer than any other right now, that you won't hear on Today.
Mother's Song, a beautiful, soaring, heart-breaking piece is dedicated to his mum, Myrna Ferries, who he lost to cancer last year.
"The last time I spoke to you, I was sitting in my mum's house, everything was fine and then it all just changed," he reflects. "It was a horrible, horrible year. My step-dad died and then my mum passed away. It was a nightmare. Going through it all during lockdown made it harder because I couldn't see mum when she was not well."
Casting his mind back to that 2019 gig, a fundraiser for Macmillan Cancer Support, he remembers, "Mum and my step-dad were both there. I'm just so glad she made it because she wasn't going to come, she hadn't been feeling too good. I was so happy that she got there. After that, it all turned. We knew it was coming, just didn't realise it would be that sudden. My step-dad had an aneurysm. One day, he was doing work on his house and started getting pains. He was rushed into hospital and within about 24 hours he had died."
Six months later, the singer's mum succumbed to cancer.
"At first I didn't really talk to anybody, just locked myself away. Writing music became my release and I wrote Mother's Song from the piano piece at the beginning of the track Butcher of Bucharest on my Future Boy album."
That piece of music was the first of his own compositions that Dave had ever played for his mum, he explains, "Away, way back when I was a wee boy, it was the first song I ever played for her. Mum said, 'Oh, that's beautiful son, what's it called?' I didn't have a name for it at the time so I said, 'We'll call it Mother's Son'. A day or so after mum passed I sat in my room and recorded a long version of it and it is now a full track in its own right. Because she loved it so much, I played it at her funeral, due to lockdown there were only 10 of us there, which was heart-breaking, but it was the first song she ever heard me play and the last."
Writing Mother's Son, helped him come to terms with his loss, "Working on my music makes my soul feel better, if I'm down in the dumps or feel a bit lost I just sit and write. The ideas start flowing and the music expresses what I'm feeling. It's like I'm in another zone, but it helps."
It was in the late-80s that Cicero was discovered by Pet Shop Boys Neil Tennant and Chris Lowe after handing a demo cassette to one of their team at a Glasgow concert. The Boys signed him as the first act on their label, Spaghetti Records, and for a time in the Nineties no one was cooler than the 21-year-old Livingston lad whose face adorned magazine covers worldwide.
Born in Greenport, Long Island, USA, raised in Gorgie, where he attended Craiglockhart Primary and Tynecastle High, but long settled in Livingston where he still lives with wife Gail and eight-year-old daughter Holly, Dave, became the King of the Scottish dance scene with hits like Love Is Everywhere, Heaven Must Have Sent You Back To Me and Live For Today.
After his chart success, he carved a successful career scoring movie soundtracks but i​t wasn't until the success of that charity concert that ​he began to think about working on his illusive second album.
"At the gig, so many people were asking when I was going to bring out a new album that I just thought why not? I had all this material from down the years and had got a great reaction when I released the odd single - Wish and Face This World Alone. I realised I already had half an album done. Before that gig, I'd had to rebuild all the Future Boy songs from scratch because they were on floppy drive and we don't have floppy drives anymore, so whenever I needed to take a break from that, I'd work on a new track."
Consequently, Today comprises 10 new tracks and a few remixes.
"I'm a perfectionist and wanted every track to lift you," he says. "I wanted the album to have the Cicero feel but with the sound of today. There are a couple of tracks with a Pet Shop Boys influence and one that Pet Shop Boys fans will love, it's called River of Lies and I've dedicated it to Neil and Chris. It has that Pet Shop Boys/Cicero vibe and a couple of hidden Easter eggs in the track that will make fans of the Boys go, 'Oh!'. I learnt a lot of tips and tricks from Chris and Neil."
Other tracks with family connections on the album include Turned Around, a song about watching his daughter getting older.
"Turned Around came about from feeling quite emotional about seeing Holly growing up so fast. She keeps me going and if it wasn't for her over the last couple of years I don't know what I would have done. She inspires me to keep going and when I was going through everything with my mum she would always be there with a wee cuddle."
He laughs, and adds, "And she's a total fan of my music, knows all the words to the songs on Future Boy, and duets with me on In The Rain (Children of Today) on the new album."
The single Wish, another duet, this time with Amy Maeve Ballie, and It's Over, a song about living with someone you can't get on with but you still love anyway, are also on the album.
"Wish is a track I wrote right after Future Boy in 1993, Neil and Chris loved it but we never got around to releasing it at the time," he reveals.
The last word, however, has to go to his biggest fan, his mum, to who the album is dedicated.
"When mum came to the gig in 2019, she cried all the way through, she was so proud. At the end I told the crowd, 'This is for my mum,' and everyone stood up and gave her a round of applause," he pauses for a moment before continuing, "Broken, the final song on the album, is actually about being in lockdown and not being able to see my mum.
"She would text me asking me to come to see her, but we weren't allowed. She couldn't understand that although I could come to her garden, I couldn't go into the house. Near the end she was taken into a nursing home. We weren't allowed in, so I went to the window and she came to the window, but it got to the stage where she didn't recognise me anymore, that was heartbreaking.
"If l'd known then what I know now, nothing would have stopped me going in to see her. I just wish I could turn back the clock, that's what Broken is about, going back and holding her one last time."
Cicero Today is released on March 10 on iTunes, Spotify and Apple Music
A message from the Editor:
Thank you for reading this article. We're more reliant on your support than ever as the shift in consumer habits brought about by coronavirus impacts our advertisers.
If you haven't already, please consider supporting our trusted, fact-checked journalism by taking out a digital subscription