'I knew I was going to win one day' says Peterhead man who scooped £135k prize
A Peterhead man's prize-winning premonition became reality last week when he scooped a staggering £135,000 prize with Britain's favourite online competition, BOTB.
Matthew Donaldson was cock-a-hoop after winning an £85,000 BMW M3 Touring, along with a staggering £50,000 in the boot.
The 33-year-old father-of-one said his face was sore from smiling as he celebrated the news with his wife, Jenna, at their Aberdeenshire home.
BOTB's Christian Williams ambushed Matthew with news he was this winner of the Dream Car Competition on a videocall, flipping the phone to show him the gleaming estate and the suitcase full of cash.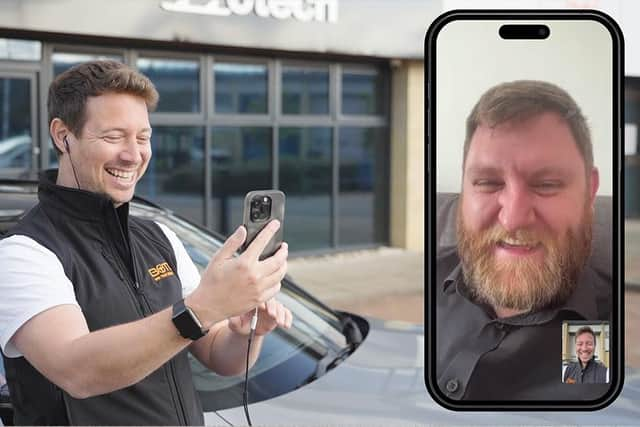 "I'd love to say I never thought this would happen to me but I had a premonition I would win and I told my wife it was going to happen sooner rather than later," Matthew said.
"Even though I knew it would be me one day it was still one hell of a shock to see Christian's face at the other end. I was speechless!"
A general manager for Peterhead transport firm Central Taxis and Millbank Coaches, Matthew said he'd already got designs on the cash.
"We had an amazing holiday to Disney last year so I think we fancy a return, especially my 10-year-old son, Leo. But I can't wait to get my hands on the car. I've already added about £10,000 of extras to the one I want, including the tech and comfort packs, but while it's being built to my specifications I'll be driving my 440!"
The M3 Touring only comes in one version – the full-fat Competition spec with a 503bhp twin-turbo, three-litre, straight-six engine, driven through an eight-speed auto gearbox.
"It's an absolute beast," said BOTB's Christian. "Matthew and his family are going to have a huge amount of fun in this car. It's like Disney on four wheels!"
As well as a Dream Car prize, BOTB hands over a string of prizes each week, from supercars and luxury holidays to suitcases full of cash and high-performance motorbikes.
The company was founded by William Hindmarch in 1999 and has given away more than £52m-worth of cars so far.
To see Matthew's reaction head over to www.botb.com.