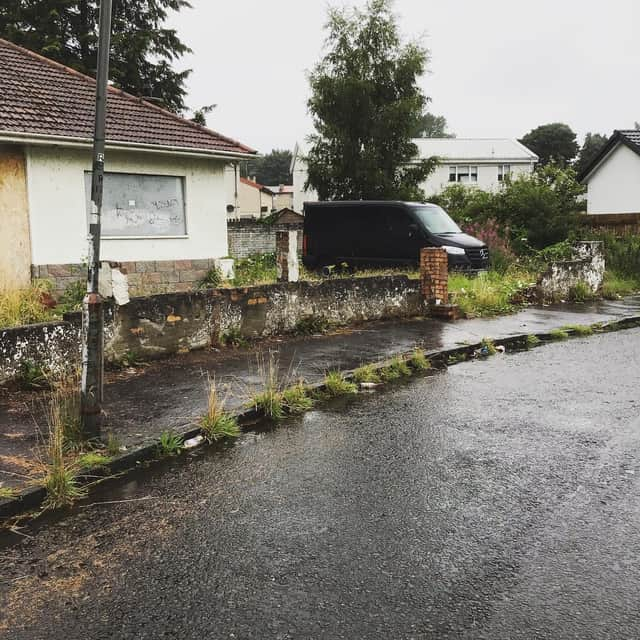 Stuart's house is in need of a full renovation.
Gary Kerr, who featured in a Scotsman and Edinburgh Evening News story in June, is committed to helping another client - Stuart Coll - who has been the victim of a run of bad luck when trying to renovate his home in the east end of Glasgow, including a break in that lasted three nights.
Stuart, who started looking for his own home after he realised council properties weren't going to be suitable for his wheelchair, bought the bungalow- located in Glasgow's east end and started the process of renovating it to make it compliant for his accessibility needs. After being let down by numerous tradesmen, Stuart's property was broken into in 2011, with thieves running off with items for his new kitchen, bathroom and even taking the copper piping from his boiler. Speaking of the events that lead up to the break in, Stuart says: "I was on the council list for a house and was offered three flats, which were fine but it became clear that there wasn't the budget to make them accessible for me. I then decided that the solution to this was to save up and buy my own home. In 2006 I'd saved enough and went to view a bungalow, which was ideal as there was a ramp outside already, the doors were quite wide and light switches low - it did need work to make it more accessible, such as a new bathroom and kitchen, but it was a good start."
'I was struggling as many were just not willing to take on the job'
Gary of Jax Design is also keen to completely transform the garden.
After being outbid, Stuart eventually was successful in buying the home and moved in temporarily to see what work was required, including whether the current bathroom was in the best place for him and his needs. After a few months, Stuart decided that the bathroom would need to be moved to one of the bedrooms, to make it more accessible. "I moved back to my mum's and got some work done by a builder. He moved the pipes for the bathroom across to the new room. That worked out quite well and he knew a plumber who came in and did the plumbing work on the new bathroom. After that I started contacting kitchen and building companies to start getting the rest of the work done."
'They ransacked the place'
It was at this point that Stuart started to get badly let down by tradesmen, he explains: "some of the companies come in and start with some of the work. But then they'd say that something had happened at another job and they'd need to leave but would be back...but they'd never come back. It then took me a while to find another company to come in and take over the work. I was struggling as many were just not willing to take on the job." Stuart then tried sole traders but again, couldn't get anyone to commit to finishing the work, or was faced with tradesmen doing bad work.
Work has been taking place in stages to make the home accessible for Stuart.
In 2011 thieves broke into Stuart's home, which at this point was without a kitchen or working bathroom due to the ongoing renovations and stole the kitchen units, cooker, bathroom supplies including a specially designed toilet, right down to the copper from the boiler and stopcock,causing the house to flood. "According to the alarm log, the house was broken into over three nights and it was devastating as they stripped it all of all the work that had been done so far," Stuart says," I think what happened is they broke in the first night and saw there was a lot of content, so they came back with a van over the next two nights and ransacked the place."
After a lengthy battle, Stuart's insurance didn't pay out as they deemed the house to be uninhabitable, due to its lack of bathroom or kitchen, but he did get a settlement from the alarm company, who failed to alert him to the break in. "The insurance company saying no to my claim was another blow as I'd lost about £40,000 of items in the home and all the work that had been put into it."
At this time, Stuart's partner found out she was pregnant and had a baby boy in 2012. "I was hoping to have the house ready for his arrival," says Stuart, "but due to the break in and the time it took to try and claim on the insurance, a year had passed and he was born."
From then, Stuart had to start again on renovations but took some time out to get to know his son, who was living with Stuart's partner and her parents while Stuart stayed with his mum. Another string of bad luck, including a hefty council tax bill for the home being deemed as empty, and unreliable builders has left Stuart not far off square one.
Areas of the home have been worked on.
Now, 14 years on from buying the home and having spent all of his son's life living apart, Stuart wants to turn the tide on his bad luck and get him home fit to live in for himself and his family.
'It's a horrendous scenario'
Gary Kerr, who recently completed a full home renovation in Livingston for local actor Ian Colquhoun, is keen to help Stuart in the same way. It was through our coverage of Ian's home that led Stuart's mum to contact Gary asking if he could help her son. Since then, Gary has visited Stuart's home and has plans to completely transform it, once the money has been raised. "When I went to meet Stuart at his home, I thought 'that can't be the property', looking at the grounds and the graffiti, it's just a horrendous scenario," explains Gary. "Within about 20 seconds of stepping into the home I could see exactly what had happened - the work hadn't been project managed properly and, I can understand why Stuart has wanted to take this on himself, but he's learned some lessons the hard way when it comes to coordinating such a big project. He's had people come in and make promises then not deliver, plus the break in - it has been a catalogue of disasters and I really want to help him and his family.
"With the crowdfunder, Stuart just needs that extra push to get him over the line and ultimately bring the family together. His son is nine and they've never lived as a family. I was touched by Stuart's story and I just want to help bring the family together."
Stuart adds: "I wish I'd known Gary back in 2006 when I first bought the house – as he is someone who could have taken on the project from start to finish and helped me out. I could have been in the house by now.
"It has been so stressful, I've had countless sleepless nights worrying about it and the thousands of pounds spent - in the region of £60-70,000 - through loss of insurance and the combination of sole traders. I just think it has been a total waste and I am struggling now to get things done."
Speaking of his Just Giving page, Stuart says: "It just came to me to do something via that route to try and help me get the job finished. Although I have been doing (work on the house) in stages and saving up my wages, this has led to small jobs being done with months in between. It was just going on and on but Gary is determined, if I get the funds, to actually help me and get the job finished."To donate to Stuart's crowdfunding campaign, please visit his page.