How vintage Aston Martin finally hit its 200mph goal in Scotland 40 years later
An Aston Martin built in the 1970s with the aim of being the fastest supercar of its time has finally met its 200mph target more than four decades later.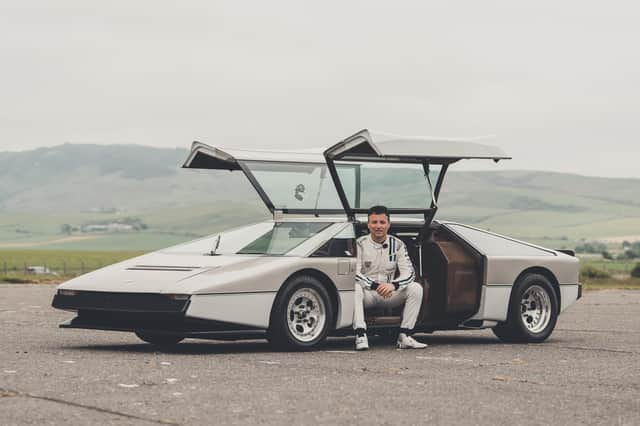 The Bulldog reached 205mph in a test drive by top racing driver Darren Turner, at Machrihanish air base, Campbeltown, yesterday.
The prototype vehicle, which has spent most of the last 44 years hidden away, was meant to be Aston Martin's flagship supercar.
It never went into production though, after it only achieved a top speed of 191mph at the Motor Industry Research Association test track in 1979.
But every bulldog has its day and yesterday a long held dream was achieved.
Turner, three times winner of the 24 hour Le Mans challenge, got out of the car after taking it on the most important journey in its history and said: "This is super special, it's really nice because of the fact that this car is history and because of how important it was to Aston Martin at the time.
"Obviously the economic situation back in 1980 meant it never went into production, this car has hardly ever been seen, but it's out now, it's superb."
He said it took about 10 -12 seconds to get from 80mph to 200mph and added: "You can tell it's from the 1970s, it's a heavy car and has five gears and a manual gear lever, whereas most of the stuff that I race is six or seven speed, we are so spoilt now."
Experts at Shropshire company Classic Motor Cars, led by technician Brett Eggar, spent countless hours finishing off the speed challenge project which was abandoned at the end of the seventies, for financial reasons.
Tim Griffin, Managing Director of Classic Motor Cars, said: "It was 203mph one way and 205mph on the return.
"It's done what it was set out to do. I am relieved, we are all very happy, my team will all be able to have a glass of wine tonight.
"The car is now going to do a bit of filming in the beautiful countryside around here and back in Shropshire."
After Aston Martin sold the hand built Bulldog to its first owner, a Saudi Prince, for £130,000 it was rarely sighted.
But car auction house RM Sotherby's classic car specialists eventually tracked the Bulldog down in Asia and convinced the owner to sell it to present owner, American classic car collector Philip Sarofim.
Mr Griffin said: "Philip asked Richard Gauntlett, the son of the former owner of Aston Martin, Victor Gauntlett, to manage the restoration of the car, with the aim of reaching the 200mph it never did when built."
Machrihanish was chosen as the test site because of its space and because the car is named after the Scottish Aviation Bulldog aircraft, flown by Alan Curtis, the Chairman of Aston Martin in the1970s.
Mr Griffin said: "The Bulldog has been hoisted on to the flight deck of the HMS Prince of Wales and driven across the frozen lake Zell inZell Am See, Austria. This 200mph run is one of Bulldog's many adventures."