Home Secretary demands 'explanation' over Nicola Bulley private life disclosure
The Home Secretary has demanded an "explanation" from Lancashire Police as to why aspects of missing Nicola Bulley's private life were disclosed at a press conference, a source close to Suella Braverman said.
Ms Braverman was reportedly "concerned" after the force told reporters Ms Bulley suffered "some significant issues with alcohol" in the past, which had resurfaced over recent months.
According to a source close to the Home Secretary, she received an explanation from police on Thursday evening.
The Home Office also said it was receiving regular updates from the force about its handling of the case – including "why personal details about Nicola was briefed out at this stage of the investigation".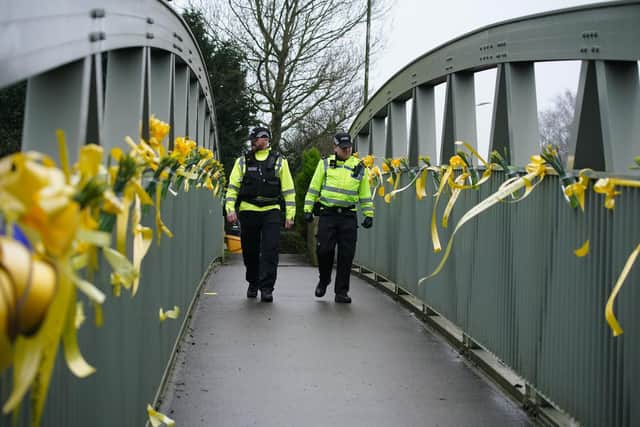 Lancashire Police have referred themselves to the police watchdog over contact they had with the missing mother of two prior to her disappearance.
The Independent Office for Police Conduct (IOPC) said they were assessing the information to determine whether an investigation would be necessary over the contact officers had with Ms Bulley on January 10.
The referral comes after her family called for an end to the "speculation and rumours" about her private life.
After police revealed her issues with alcohol "brought on by her ongoing struggles with the menopause", they were strongly condemned by MPs and campaign groups.
The Conservative police and crime commissioner for Lancashire, Andrew Snowden, said the force were being "as transparent as they can be" following the press conference.
Ms Bulley vanished after dropping off her daughters, aged six and nine, at school on January 27 in St Michael's on Wyre, Lancashire.
She was last seen at 9.10am taking her usual route with her springer spaniel Willow, alongside the River Wyre.
Her phone, still connected to a work call for her job as a mortgage adviser, was found just over 20 minutes later on a bench overlooking the riverbank, with her dog running loose.
In a statement issued on Thursday, Ms Bulley's family said people needed to stop "making wild theories up" about her private life.
The statement, issued through the force, said: "Although we know that Nikki would not have wanted this, there are people out there speculating and threatening to sell stories about her. This is appalling and needs to stop.
"The public focus has to be on finding her and not making up wild theories about her personal life."
Concluding their statement, Ms Bulley's family issued a direct plea for her to return, saying: "Your girls want a cuddle."
The statement read: "Nikki is such a wonderful daughter, sister, partner and mother and is missed dearly, we all need you back in our lives.
"Nikki, we hope you are reading this and know that we love you so much and your girls want a cuddle.
Ms Bulley's parents, Ernest, 73, and Dot Bulley, 72, left a yellow ribbon tied to the bridge over the River Wyre in St Michael's on Wyre, where their daughter vanished on January 27, with a message that read: "We pray every day for you. Love you, Mum + Dad XXX."
A second ribbon, believed to be from Ms Bulley's sister, Louise Cunningham, read: "Nikki please come home. I love you. Lou XXX".