Why did this have to happen? Holocaust survivor finally granted leave to remain after 'draining' process
She has lived in the UK for 73 years after being rescued as a baby from a Nazi death camp.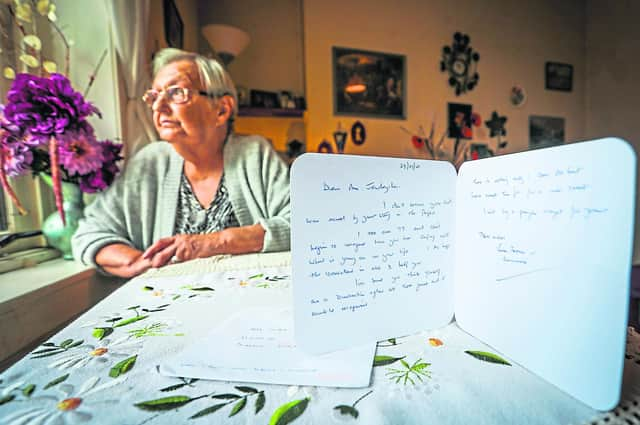 But Irena Jendrycha, 77, from Dundee, was left fearing that she could be deported after the stress of applying for right to remain under the post-Brexit EU Settlement Scheme.
The pensioner has never owned a passport and said the process of applying for settled status in the wake of the UK's exit from the European Union had left her feeling "drained" and like "all the goodness had been sucked from the world".
After her case was taken on by her local MP and raised in parliament, the Home Office has now confirmed she can remain, but there are fears many more may be in a similar situation.
Mrs Jendrycha said she felt like "an outcast" with no sense of "belonging"."This whole experience has left me feeling drained, like a wrung-out towel," she said."I was asked question after question about my life and my work."At one point someone said I could in fact be deported, this is the sort of stuff I've been bombarded with. I've lived here for 73 years."I am 77 now, it has been such a complicated process and has been totally ridiculous."
Mrs Jendrycha insists that she is not looking for sympathy and spent years of her life not mentioning the horrors of her past.
She added: "I am, of course, pleased it is all over but, at the end of the day, why has this had to happen?"If it hadn't been for Brexit, then this would never have occurred. I and others like me would not have had to go through this."I thank God this whole thing has been sorted."
SNP MP Chris Law, who took on her case, welcomed the Home Office decision but warned only two per cent of the six million settled status applications have been sent from people aged over 65.Mr Law said: "Naturally this will come with some relief for Irena; however, it's bittersweet, as no one should have to relive the horrors that Irena has experienced to be recognised by the UK Government as having a right to live here in Scotland."I fear many more like Irena have either been unable or unaware that they needed to apply and have lived here for decades, assuming quite rightly that Scotland is their home."The UK Government's hostile environment' means that it's likely this is going to be yet another Windrush scandal that will unfold."A spokesperson for the Home Office said: "If someone has applied to the EU Settlement Scheme by the June 30 deadline, but has not had a decision yet, their rights are protected until their application is decided. That is the law."We have been in contact with Ms Jendrycha and she has since been granted settled status."Mrs Jendrycha's mother was Polish and was transported to a death camp in Austria where she gave birth to Irena. Following liberation by American troops, they were sent "in trucks" to Italy for a number of years, before being shipped to Dover, then Hull, Berwick upon Tweed's displaced persons camp and finally a farm in Angus.
Comments
 0 comments
Want to join the conversation? Please or to comment on this article.