Glasgow's Jonathan Gibson, who is studying for a PhD in modern history at the University of St Andrews, has been crowned the new Mastermind champion at the tender age of 24.
He scooped the title by a margin of four points in the grand final of the BBC game show after scoring a perfect 11/11 in his specialist subject – British comedy songwriting duo Flanders and Swann, an act popular in the 1950s and 1960s.
Mr Gibson beat off stiff competition to reach the final after getting through two previous heats.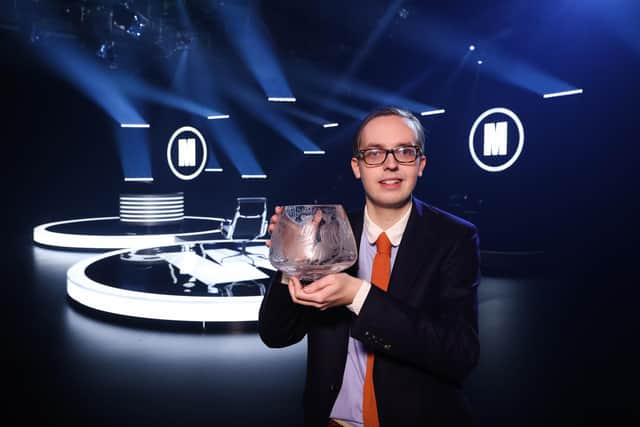 His other specialist subjects throughout the contest were Agatha Christie's Poirot in the heat and William Pitt the Younger in the semi-final.
He got full marks on all three specialist subjects, as well as a perfect general knowledge score in his semi-final round.
The post-graduate student ousts the previous youngest winner, Gavin Fuller, who was also 24 – but 90 days older – when he won in 1993.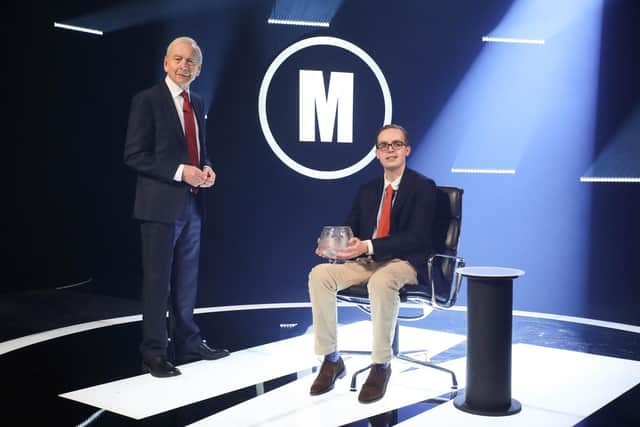 Mr Gibson said: "To be not only the Mastermind champion but the youngest-ever Mastermind champion just feels absolutely incredible.
"I cannot believe it. It's like a dream come true.
"That's definitely not what I would have expected.
"So, the fact that I was able to increase my score every time, I don't even honestly really know how I did that.
"When I tell my family about this I imagine they will be even more over the moon than me.
"They have been so supportive to me and I'm just really looking forward to getting home and telling them about it and seeing what celebration meal my mum is going to make for me.
"The fact that I've won as the only Scottish finalist means a huge amount, because – despite the confusing evidence of my accent – I am fiercely proud to be Scottish.
"I'm really proud to demonstrate that Scottish quizzers and quizzers from outside of London exist and can beat the rest."
He added: "And I absolutely want this victory to inspire, if possible, quizzers of my age and younger to give it a go and prove themselves, because we can win."
Mastermind, which has been running since 1972, is famous for its intimidating setting – characterised by the iconic austere black leather chair, stark lighting and threatening theme tune named 'Approaching Menace'.
It was dreamed up by television producer Bill Wright, a former RAF gunner, who drew inspiration from his experiences of being interrogated by the Gestapo during the Second World War.
Contestants are faced with a number of challenging questions over two rounds – one on a specialised subject of their choice and the other on general knowledge.
Icelandic-born Scot Magnus Magnusson, who coined the well-known catchphrase "I've started so I'll finish", fronted the show for 25 years, from its first airing in 1972 until 1997.
The programme soon gained a massive following, becoming one of the most-watched on UK TV and remains popular nearly 50 years later..
The grand finale of the latest series was the last outing for current host John Humphrys, who is stepping down after 18 years.
He is being replaced by BBC journalist and news presenter Clive Myrie, who will become the fifth Mastermind host – Peter Snow asked the questions from 1998 to 2000, followed by Clive Anderson from 2001 to 2002.
The final episode of the original run was recorded at St Magnus Cathedral in Kirkwall, Orkney, in a tribute to retiring host Magnussen.
He was also presented with the famous black chair as a leaving gift, which was passed on to his daughter, broadcaster Sally Magnusson, after his death in 2007.
The highest overall Mastermind score is 41 points, achieved by Kevin Ashman in 1995.
He also holds the record for the highest ever score on quiz show Brain of Britain and has been a member of Eggheads since the series began.
The current record for the lowest score in the specialist subject round is jointly held by Simon Curtis and Steve Ferry, who both only scored a singe point when answering questions on the life and films of Jim Carrey and the Thirty Years' War respectively.
The overall lowest score is three points, set in 2016 in a celebrity edition by parasport athlete Kadeena Cox.
She scored all three points on her specialist subject of Arsenal Football Club, and remains the only ever contestant to score no points in a round.
The original show was dropped by BBC1 in 1997, but was picked up by Radio 4 and ran between 1998 and 2000.
It then moved to the Discovery Channel in 2001, featuring an interactive element for viewers.
It moved to BBC in 2003 but has now returned to its original home on BBC1.
A message from the Editor:
Thank you for reading this article. We're more reliant on your support than ever as the shift in consumer habits brought about by coronavirus impacts our advertisers.