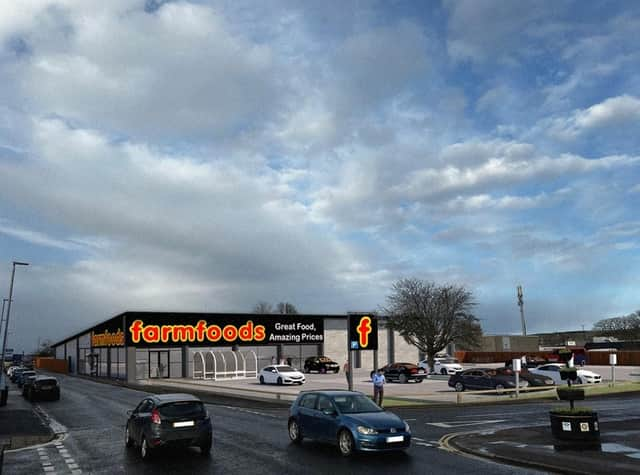 The retail firm applied to Aberdeenshire Council in a bid to build the new store on the site of the former Garioch Health Centre.
Ambitious £5 million plans for a drive-thru Starbucks and four shops were submitted back in 2019.
But they were refused the following year after residents raised concerns the development would create traffic troubles in the town centre.
The proclaimed "frozen food specialists" launched a bid to takeover the Inverurie site in March last year.
Expected to create between 15-20 new jobs, the new store will have 45 car parking spaces and a cycle shelter for 12 bikes.
But locals had a mixed reaction to the proposed new supermarket. Five residents wrote a letter to the local authority supporting the plan while 18 voiced their opposition.
Those in favour of the proposal said it would bring more choice to Inverurie shoppers.
However those against the new store said its appearance was "out of character" with the area, would lead to a loss of privacy and increase noise.
Council planners had recommended the plan be refused.
While they noted the site would bring new jobs and other financial benefits to Inverurie, they said the town centre site was allocated for a mix of uses including retail and affordable housing.
Planners also slammed the "generic" design of the proposed supermarket.
The application went before the Garioch area committee last week.
Property director of Farmfoods, Alistair Kay, told members the firm's lease at North Street was terminated in 2020, bringing 40 years of history in the town to an end.
He said the company intended to return to Inverurie "when the right opportunity arose".
Mr Kay added: "We wish to create an attractive, accessible and appropriate retail amenity right in the heart of Inverurie. Our proposal would enhance an already thriving town centre with our range complementing established local businesses nearby."
Councillor Dominic Lonchay suggested members overturn the officers' recommendation and approve the new store. He argued the development would bring economic benefits to the town and welcomed the creation of new jobs.
Mr Lonchay said: "Farmfoods can be considered as a discount shop and I would say it could help with the cost-of-living crisis that we are experiencing at the moment.
"The lack of interest for this site means we will have to decide to do something with it and I find this application perfectly acceptable."
He was backed by councillor Sam Payne who welcomed development on the "eyesore" site.
However councillor Glen Reid urged councillors to go with the refusal.
Mr Reid did not receive any support from his fellow committee members and the plan was approved with a delegated grant.
In July, Farmfoods will celebrate its 69th anniversary. The Scottish family-owned business started out as a butcher shop in Aberdeen but its headquarters are now based in Cumbernauld.