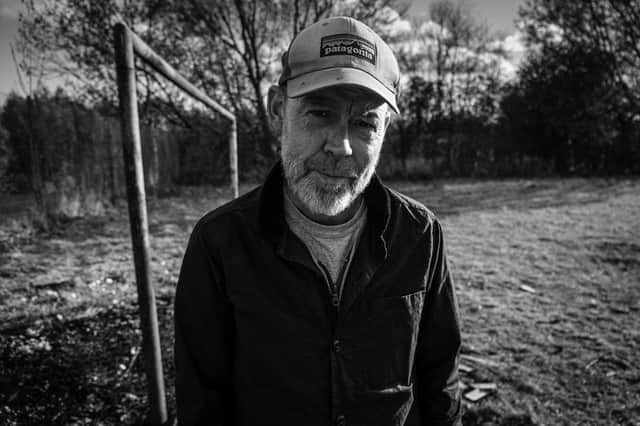 The award-winning photographer is a well-known figure in the Scottish art scene for having documented 1990s Glasgow's nightlife and shooting stars like Eminem, Ewan MacGregor, Jimmy Cliff and Julie Christie.
But his series of photographs capturing the well-worn, once-loved football stadiums and grounds of years gone by speak to Sweeney's appreciation for the more humble, grounded things in life.
A press trip to cover a music festival in Iceland in the '90s led Sweeney to start photographing the country's small, seemingly unassuming but larger-than-life stadiums, with Adidas later using Sweeney's 'Great Stadiums of Iceland' as a marketing campaign which the photographer says was the antithesis to a new era of football in which mega stadiums, climbing season ticket costs and consumerism loomed large.
Having stumbled across one of Iceland's top stadiums on the trip in 1995, Sweeney began to capture grounds all across the country in a series which highlighted the power of football in binding communities – and indeed countries – together.
"Football has its own kind of universal language, you know," he explained.
"It's something that almost everybody has in common and somewhere along the lines there's always a story about football as being something that really connects people."
The trip inspired him to capture Scotland's own offerings of local football stadiums and grounds which are now on show at Glasgow's Sogo Arts gallery, with sombre images of stadiums and grounds in Forres, Eriskay and Glasgow that speak to the football's rich history at the heart of Scottish working class communities.
Sweeney's image of St Roch's FC ground in Royston, Glasgow, for instance, captures a moment in time when the city's Red Road Flats still flanked the pitch and towered over the east end.
"I just love the feeling of an empty football stadium because there's so much hope there," Sweeney said.
"The players aren't on and there's none of the inevitability that you feel at the start of a match – it's just an empty stadium where you could make up what was going to happen."
Sweeney adds that the architecture of old football stadiums is something which has always fascinated him, having been born and raised in Cumbernauld, where the same blunt brutalism forms part of the town's concrete landscape and likewise acts as a monument to urban life before deindustrialisation devastated Scottish communities.
"There's such a sense of pride in a lot of these places," Sweeney added, explaining that a semi-spontaneous visit to a football ground in Stornoway saw the photographer met with a team of men and shovels desperate to make the pitch look its very best in his lens.
Such stories are palpable when looking at Sweeney's empty Scottish football grounds and stadiums, recalling a football landscape full of promise and embedded in communities – things which his images realise as being increasingly at risk of relegation in the world of the beautiful game today.
Great Stadiums of the North is on show now until the first week of September at Sogo Arts, 82-86 Saltmarket, Glasgow, G1 5LY.
A message from the Editor:
Thank you for reading this article. We're more reliant on your support than ever as the shift in consumer habits brought about by coronavirus impacts our advertisers.
If you haven't already, please consider supporting our trusted, fact-checked journalism by taking out a digital subscription.