Grandson and his bride surprise grandmother with care home window visit on their wedding day
A 97-year-old grandmother who was unable to attend her grandson's wedding day was given a special surprise when the to-be-newlyweds visited her care home on the day.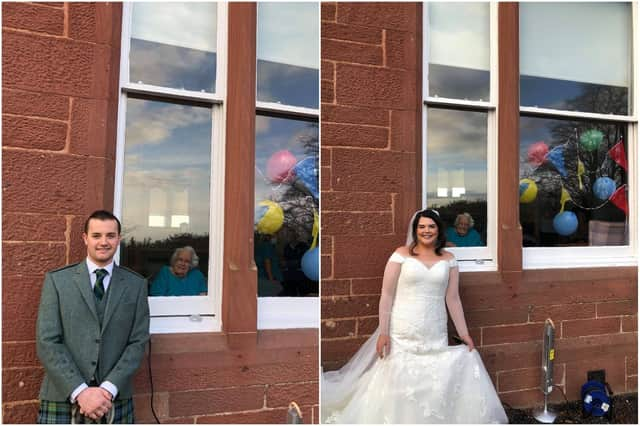 The couple visited the care home yesterday to see Evelyn from the window.
Evelyn Dyce, a resident at Balhousie Lisden care home in Kirriemuir, was unable to attend her grandson's wedding earlier this month because of Covid-19 restrictions.
Not wanting his grandmother to miss out on such a special day, the groom, Ewan Dyce from Kirriemuir, and his bride, Rachel, brought a little bit of the wedding to her with a special window visit on their way to the venue.
The happy couple visited Evelyn separately on their way to their wedding at Kinkell Byre in St Andrews on January 7, making sure they didn't see each other before the ceremony.
Ewan and Rachel Dyce getting married at Kinkell Byre St Andrews
Balhousie Lisden Care Home manager, Richard Lake, added: "The visit meant the world to Evelyn, but it also really lifted the spirits of all our residents and staff. We wish them a very happy life together."
Want to join the conversation? Please or to comment on this article.