Going above and beyond during Storm Babet
Scottish Water employees fought against the impacts of Storm Babet to ensure thousands of customers' vital water and wastewater services continued without interruption.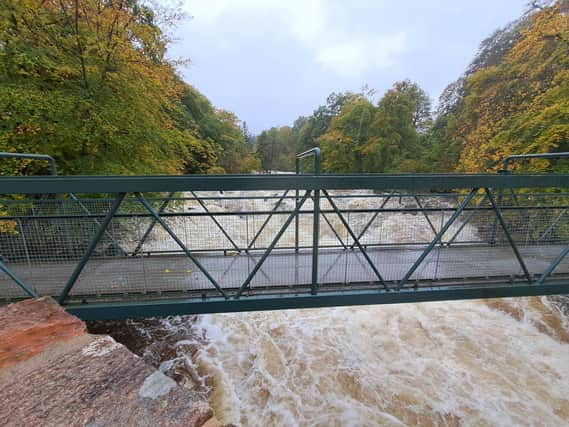 With severe weather warnings in place across the country, employees prepared and responded to the extreme challenges severe weather poses to critical infrastructure.
Key lessons were learned from previous incidents including Storm Arwen which caused disruption to our customers in 2021.
However, this time round, through deployment of emergency generators, those areas had no significant supply interruptions due to power loss.
Water Operations Team Leader, Eric Ross said: "Having early warning that Storm Babet was on its way, was really helpful for our teams as it allowed us to prepare properly, however you can never predict the damage a storm is going to cause.
"Through brilliant communication from Gordon Laughlin (Water Ops Manager), our Grampian Operational Teams and the council road departments, we were able to ensure our operatives always took the safest routes when attending service reservoirs, pumping stations, and other assets.
"Whether it was fixing pipes, adjusting battery sources, carrying out resets to pumps or delivering new generators, our teams were able to do this successfully and in a safe manner, allowing us to maintain supply for customers."
Andrew Gunn, Senior Water Operator, said: "Many of our water treatment sites in the Highlands, were facing the possibility of power outages due to storm conditions which could result in customers losing their supply'.
"It proved tricky, travelling between different sites due to the heavy rainfall and flooded roads, however, living in Scotland this wasn't our first rodeo as we often have to deal with extreme weather events, so we knew exactly what work was needed to keep the various sites operating which we were successful in doing."
While it wasn't just water operations that were affected by Storm Babet, with many wastewater assets in the northeast area also experiencing operational challenges.
Scottish Water's Waste Water Operations Manager, Craig Low said: "The severe weather caused many challenges for our wastewater teams in the northeast.
"With wind blowing down trees, blocking access and causing power outages to some sites, while other assets became flooded due to the heavy rain.
"Thankfully, through our teams hard work, we managed to ensure the effects of Storm Babet had limited impact on our customers wastewater services, with the team working extremely hard during the Storm and over the weekend to achieve this.
"Our recovery work has begun at Brechin WWTW, with our operational teams supported by our process science team and supply change partners to bring the works back online soon, which is another testament to the teams good work."
Teams right across Scottish Water were involved in taking on Storm Babet.
From the contact centre, dealing directly with customers, to the Communications Team putting out regular media updates and working closely with different local authorities and emergency services on shared messaging.