Rugby legend Gavin Hastings unveiled the whiskies by Loch Lomond Whiskies in aid of Hearts + Balls at Myreside, home of his former club, Watsonians.
He was joined by Struan Kerr-Liddell, a former rugby player who has been wheelchair bound since dislocating his neck while playing for Edinburgh's Lismore RFC in 1999.
Hearts + Balls, which spawned from an appeal to raise money to support Mr Kerr-Liddell, has since raised more than £700,000 for rugby players and their families, providing everything from carers to wheelchairs to vehicles.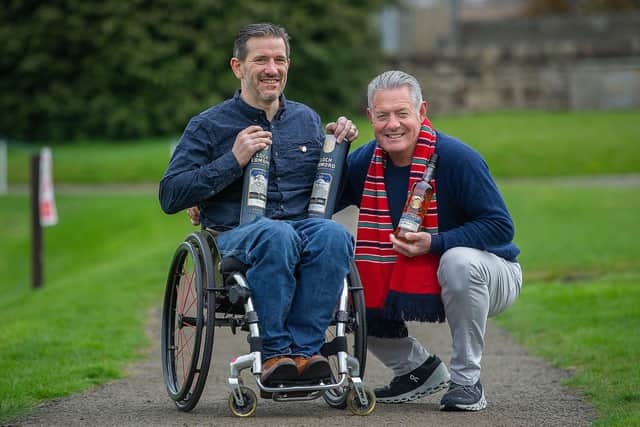 Every bottle of the now available limited edition 10 year old and 18 year old single malts will aid the charity provide with all profits going to Hearts + Balls.
Mr Kerr-Liddell, a 46-year-old father from Edinburgh, said: "In the more than 20 years since the charity was founded, I've been overwhelmed by the support from Scotland's rugby community. The charity provides a lifeline to those who experience a life changing injury; Hearts + Balls is there to make sure that nobody goes through that experience on their own.
"I want to make sure that anyone who experiences an injury of this nature receives all the support they need to live the full life I've been able to live. Sales of the whiskies will help to make sure that's the case."
British and Irish Lion Gavin Hastings won 61 caps for Scotland and played a key role in Scotland's historic win against England to secure the Grand Slam in 1990.
Last year, he came together with his former teammates and members of the 1984 squad for a fundraising dinner which raised more than £48,000 for the charity.
He said: "Hearts + Balls plays a vital role. We as players who have been fortunate to experience all the benefits of rugby while avoiding some of the major risks have a duty to do our bit to help those who have not been as lucky.
"The rugby community is special, and there's no better evidence of that than the fact that this charity has now been going strong for almost 25 years. Anyone who buys a bottle will not only enjoy a wonderful whisky, but they will help Hearts + Balls deepen and widen its reach."
Hearts + Balls chairman Kenny Hamilton added: "We're extremely grateful to Loch Lomond Whiskies, and the players of Scotland's Grand Slam winning squads for their support in making this charity whisky a reality. Both single malts are absolutely first class. We're proud that our cause continues to mobilise Scotland's rugby community to go above and beyond. Every penny raised will go towards improving the lives of players who have suffered life changing injuries."
The 18 year old whisky is priced at £125, while the 10 year old single malt is priced at £50.
Both whiskies are chosen by Loch Lomond's Master Blender and can be purchased on Loch Lomond's website ,with all profits going to Hearts + Balls.