Fundraising campaign to erect statue of James Scott Skinner in Banchory
A major fundraising campaign has been launched to raise funds for the erection of a life-size bronze statue in Banchory of the renowned musician and fiddle music composer, James Scott Skinner – the Strathspey King – who died almost 100 years ago.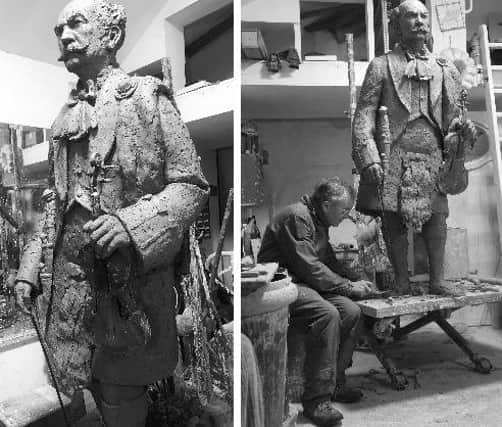 A dedicated group of fiddle music enthusiasts, led by the renowned fiddler of the present day, Paul Anderson, has already raised sufficient support locally to commission leading Scottish sculptor, David Annand, to create a clay mould from which the bronze cast will be made.
Paul said: "But we need to do much more to raise funds to take the project through to completion and we're looking for the good people of Banchory and Deeside to rally round to commemorate the town's most famous son as well as fiddle music enthusiasts from home and abroad."
Fund-raising events in the pipeline include a charity dinner in Banchory and a star-studded concert which Paul is planning with fellow musicians in Aberdeen's Music Hall.
"The name of James Scott Skinner looms large in Scottish traditional music and arguably the Banchory-born musician is Scotland's best known exponent and composer of fiddle music," says Dr Anderson. "His reputation is such that his music is still played all over the world almost 100 years since he passed away in Aberdeen in 1927."
Thousands of mourners lined the streets of Aberdeen to honour Skinner as his coffin passed on its way to Allenvale Cemetery where he is buried.
His coffin was lowered into the grave to the music of Pipe Major George S McLennan, the greatest piper in the world at the time, and the chief mourner was Britain's best-known and most successful music hall entertainer, Sir Harry Lauder.
It was a fitting end for the man who had entertained Queen Victoria, toured North America and was the first Scot to record music commercially.
Led by Tarland-based Dr Anderson, the members of the Strathspey King Memorial Fund have made a good start to the project and are delighted that David Annand has agreed to mould the statue.
"David has a superb track record as a sculpture and has produced such well-known sculptures as the Alford Aberdeen-Angus bull, the Robert Fergusson statue in Edinburgh and the sculpture of Niel Gow in Birnam near Dunkeld.
The statue of Skinner will eventually be erected in James Scott Skinner Square off Banchory High Street.
Banchory Museum is currently undergoing considerable refurbishment and Skinner will feature heavily in the exhibition to mark the refurbishment.
Dr Anderson added: "We feel confident that with the reopening of the museum and with a fantastic new statue of Skinner nearby, the centre of Banchory will see a boost in visitors and that can only be good for local businesses."