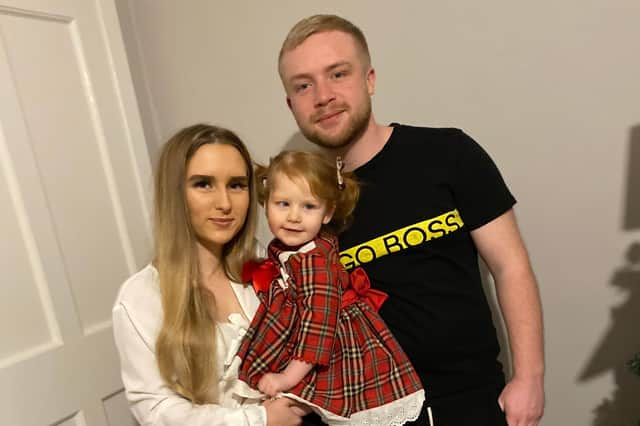 Kasey, Jack, and Thea.
Toddler Thea Hay, dubbed the Smiling Warrior, suffers from hypoxic ischemic encephalopathy, a condition where there is a lack of oxygen and blood flow to the brain.
Her mum Kasey Watson believes that she can develop further with help from the NAPA (Neurological and Physical Abilitation) Centre in the US, and is hoping to take Thea there in June if given a medical exemption to travel.
She has already fought through epilepsy, and painful muscle spasms, but can currently sit, interact, play, and even say the occasional word.
Thea Hay has smiled throughout her fight.
Kasey said that right from the start, Thea has continued to fight despite the difficulties.
She said the initial lack of blood flow caused complications during birth: "There was an emergency C-section.
"A lot of it is a bit of a blur, it was just so traumatic. She was just born then they took her into another room to work on her.
"They did all these tests then said she would need to be transferred to Simpsons neonatal unit in Edinburgh.
"We later found out she had quite a big seizure when she was born, she had a feeding tube and a breathing tube."
Medics continually warned Kasey and her partner Jack that they may well lose Thea, with the heartbreaking advice that the Selkirk couple should prepare for her funeral.
But Kasey said that Thea showed early on that she wasn't ready to give up.
"They said it wasn't likely she would survive and we should make arrangements," said Kasey. "We were told that nearly every day.
"She didn't move for a good few days.
"Then she started to move her toes and we were really happy.
"We were holding her when she was 5 days old and her breathing tube came out.
"She started breathing. They were still expecting her to go down hill but she just kept going.
"Every time they said she couldn't do something she did it.
"It was only when we came out of ICU that we thought we'd get her home."
Support charity Just4Children is helping in the fundraising campaign for Thea's treatment, which includes numerous therapies like speech, physiotherapy, occupational and other specialist treatments.
The NAPA Centre in Los Angeles would assess Thea and decide which intensive program would be best for her.
However, the therapy, taking place over three weeks, costs thousands of pounds, plus flights, accommodation and other expenses.
Kasey said that the therapy could give Thea the extra help she needs: "She can't crawl or walk.
"She's trying to move but she's just not there yet.
"I'm hoping it'll progress her skills.
"I hope she'll be able to explore her environment a bit more or feed herself better.
"It would just mean the world to us. You just want the best for your child, whatever situation they're in."
Kasey also explained the inspirational little girl had earned her nickname.
"She's our Smiling Warrior.
"She just smiles and powers on. She's been through more than the average adult and she still just smiles.
"She shows us how to keep going. I don't know how she does it."