Funding for fish-saving trees
The River Dee is to receive support to massively upscale the creation of important tree structures in its watercourses that are providing lifelines to endangered fish.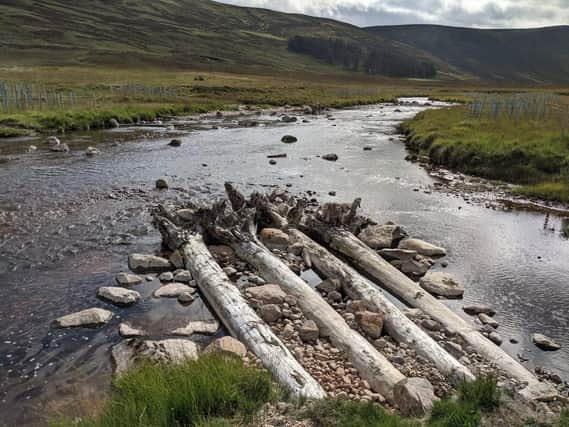 The addition of anchored trees, which occur as windfall, has been shown to quickly improve the river's habitat and increase numbers of threatened juvenile salmon and trout.
The Scottish Government's Nature Restoration Fund, which is managed by NatureScot, has approved funding of £480,600 towards the installation of over 1000 instream trees in the important salmon production areas of the upper Dee, including the Geldie Burn and the mainstem of the Dee at Mar Lodge, and the Girnock Burn by Abergeldie.
The project, led by the Dee District Salmon Fishery Board in partnership with National Trust for Scotland's Mar Lodge Estate and Abergeldie Estate, will involve 1125 trees including their large root plates, being anchored into the riverbed or riverbank to form 225 'Large Wood Structures' which then allow natural river flows to create the vital healthy habitat.
This includes spawning gravels for adult fish to lay their eggs, expanses of juvenile rearing habitat, and pools and complex structures for all fish to take cover from floods, droughts and predators.
The installed trees also trap nutrients and so support invertebrates, providing a greater supply of natural food.
Recent work by the River Dee Trust shows an increase in juvenile fish numbers associated with these restoration measures within a year of being installed.
These structures are being placed alongside areas of riverbank trees planted as part of the River Dee Trust's One Million Trees campaign. For in the future, these trees will be the source of further, all-natural Large Wood Structures.
They add to the 260 structures already created or planned for the catchment.
Lawrence Ross, chair of the Dee District Salmon Fishery Board, said: "Having confirmed that large woody structures genuinely benefit the numbers of juvenile salmon and trout it is pleasing to be able to undertake this work on a grand scale.
"We are most grateful to the landowners and government funders for their co-operation and support of this astonishing project."
Sandy Bremner, chair of the River Dee Trust, said: "Some of our river restoration work will take a few years to have an impact. These trees help our fish and the wider ecosystem immediately.
"We've seen the difference with our own eyes, and the benefits are underpinned by a growing body of science."
The National Trust for Scotland Mar Lodge Estate Conservation Manager, Shaila Rao added: "These headwaters of the River Dee are vital to the health of the whole river but the habitat currently has huge scope for improvement.
"Installing large woody structures will enhance the channel diversity vastly improving the freshwater habitat for salmon and many other freshwater species."