Former Fife nurse scoops £100,000 Porsche in UK cancer charity draw
A Fife woman has won a brand-new 180mph Porsche 911 worth over £100,000 in a charity raffle.
Joanne McGuigan scooped the star prize as part of a campaign to help raise funds for Marie Curie.
The 49-year old from Glenrothes won the top of the range speed machine as an "early bird prize" in the biggest ever Omaze Million Pound House Draw.
Her prize is a Porsche 911 Carrera 4 Coupe which can accelerate from 0-62mph in just four seconds and cover a quarter mile in a little over 12 seconds.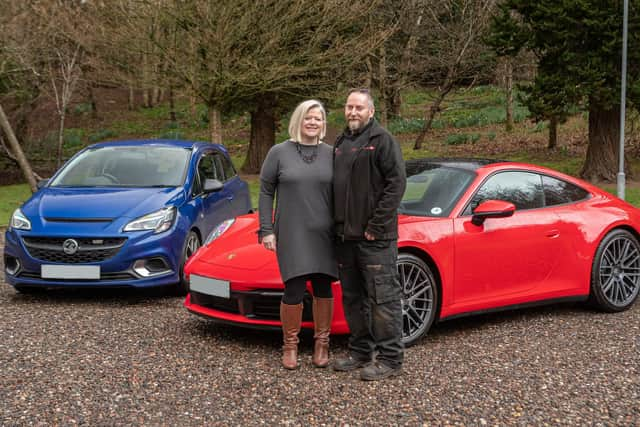 Joanne worked as a paediatric nurse for 20 years and has recently started working as a training officer for home care through her local council.
She has been married to husband Iain (52) since 2007. Car mad Iain has worked as a mechanic for 16 years and has previously taken part in many track days. The couple have six children and four grandchildren.
Joanne currently drives a 1.6-litre Vauxhall Corsa VXR – which although not as fast as a 911, still produces a respectable 200bhp and takes 7 seconds to reach 62mph.
Joanne said: "I'd just come in from work and saw an email from Omaze saying I'd won something. I thought it sounded too good to be true so didn't even mention to my husband when he came home.
"Later that night I decided to check it again and was flabbergasted to find that my entry code did indeed match - and I'd genuinely won a Porsche! My husband was still dubious though and told me not to get my hopes up, but now the car is actually here I think he's finally convinced!
"I have never won anything before this so I'm still in shock to be honest. It's the first time I've ever been inside a Porsche and the car is absolutely stunning - after going for a spin I can safely say it's definitely quicker than my Vauxhall!
"As much as my husband would love to keep it, the money we'll get from selling it is life changing – so we're going to sell it and use the money to pay off our mortgage and treat our children and grandchildren."
Joanne has taken part in Omaze draws since they first partnered with the British Heart Foundation - her dad died from a sudden heart attack whilst at work in 2018.
"The charity means a lot to me. In the last five years we've lost three close family members to cancer, so Marie Curie is also a charity close to our hearts."She paid just £10 for her winning entry, and is hoping her good luck continues so she can bag the main prize - a stunning £4,500,000 waterfront house in Cornwall.
The dream home will be the biggest ever house prize draw to be offered in the UK and comes mortgage free with all stamp duty and legal fees covered. The winner is also given £100,000 cash to help them settle in
Comments
 0 comments
Want to join the conversation? Please or to comment on this article.