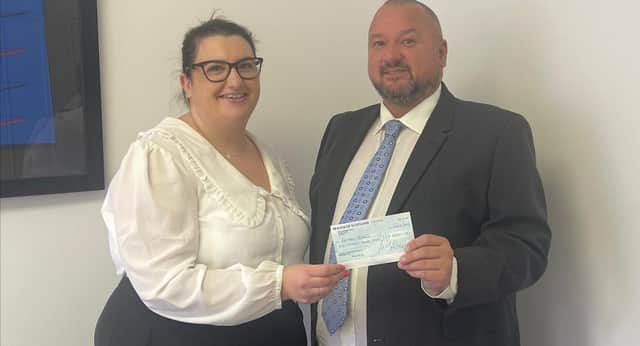 Ellon-based Rainbow Rogues works with vulnerable children and their families across Aberdeen and Aberdeenshire and in recent weeks they have been fund raising to keep their doors open.
Commenting on the donation Phil Anderson, Managing Director at Phil Anderson Financial Services said: "We are delighted to be supporting Rainbow Rouges.
"It is a charity that is very close to my heart as I have a son with special needs who attended Rainbow Rogues when he was younger.
"I have seen first hand the excellent work the team there do, and we hope our donation can make a difference."
The team at Rainbow Rogues work across educational, social and health agencies playing an essential role in children's pre-nursery and primary school transition phases, helping their families identify the most appropriate learning settings.
The group was formed in 2005, initially as part of the Surestart initiative, as a response to a community audit which highlighted the needs of local families.
The group has close working relationships with the local early year's networks and professionals such as Homestart and Health Visiting teams who refer new families to the group.
Rainbow Rogues is a member of the Ellon Early Years Network, Ellon Local Learning Partnership and Ellon Health and Wellbeing Group.
Keri Craig, charity manager, said: "We are very thankful to Phil Anderson Financial Services for this kind donation. Covid-19 gave us so many challenges and it severely impacted our fund-raising.
"Amid the cost-of-living crisis, it is very difficult to ask for money, but we're asking anyone that can support us to help with whatever is possible.
"We have real concerns for the families we work with should the respite we provide stop."
The charity has set up a fundraising page for donations which can be found at wonderful.org/pay?ref=SC046756