Farmers reminded to remove mud from Aberdeenshire roads
With Aberdeenshire farmers counting the cost of lost crops in the aftermath of heavy rain and flooding during Storm Babet, our thoughts go out to all those impacted in recent weeks.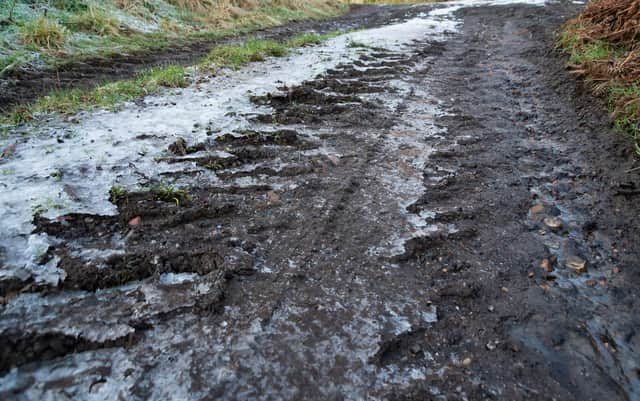 It's been incredibly challenging for all concerned and we know that ongoing agricultural operations will be hampered and delayed far later into the year than normal.
With that in mind – and while in no way adding pressure to our already hard-pressed farmers - with those operations comes the issue of mud being left on north-east roads which – given the standing water in many fields – could cause serious hazards for motorists by creating a slippery road surface if not removed as legally required.
The Aberdeenshire farming community do take their responsibilities very seriously and we do appreciate moving from field to field, or off-road to on-road inevitably leads to mud being deposited on the road.
But any driver or operator is required to clean up and remove any mud on the road as soon as they reasonably can - not doing so is an offence under the Roads (Scotland) Act.
Putting out warning signs about mud on the road is also very good practice, but it does not excuse mud being left on the road for hours or days or remove liability in the event of an incident.
Aberdeenshire Council's Head of Roads, Philip McKay, said: "We absolutely appreciate that this is a particularly challenging time for our farming community which has been hit hard by the recent flooding causing crops to be ruined in many areas and having an impact on grazing capacity for livestock. We also know that it will take some time for waterlogged fields to recover, however ongoing operations do present a real risk in bringing significant volumes of mud onto our roads network.
"We know the vast majority of farmers and commercial operators already take steps to ensure any mud being taken onto our road network is cleaned up as quickly as possible, but we continue to get reports of incidents where that course of action is not being undertaken.
"I would encourage all drivers and operators to do everything possible to prevent mud being deposited on our roads, preferably cleaning mud from vehicles - as far as that's possible to do - before they are taken onto the road."
NFU Scotland's Regional Manager for the North-East, Lorna Paterson, added: "It has been an exceptionally wet autumn and we know harvesting, particularly potatoes, has been delayed. When lifting gets underway, it is important that we remind growers of their obligations. It is illegal to deposit mud on a public road, and any farmer or contractor should clear any such mud as soon as reasonably possible.
"Where operations are likely to cause mud to be deposited, a plan to clear the road must be put into place, including warning signage and using the appropriate machinery. If contractors are being used it is important to agree in advance who is responsible for putting these measures in place."