Ewan McGregor 'thrilled' to play Obi-Wan Kenobi again - and confirms when new Star Wars spin-off will start filming
Scottish actor Ewan McGregor has said he can't wait to don his Jedi robes once again, as he revealed a new spin-off series based on Obi-Wan Kenobi is set to begin filming soon.
The Perth-born star of films like Trainspotting and Shallow Grave made the comments while appearing on comedian Eddie Izzard's live stream of his charity ultra-marathon, Make Humanity Great Again.
McGregor, 49, said filming on the stand-alone Obi-Wan Kenobi series will start in a few months time.
"We start making it in the late spring, and I think we're going to be shooting it here in LA," he said.
"It's so funny – every week there's a new report. There's another tabloid expose that we're shooting it in some bizarre town somewhere. Then we're meant to be making it in Boston, then, 'No, it wasn't Boston, it was Boston, England.' But we're not. We're shooting it in L.A. There you have it, folks."
And McGregor said he is "thrilled" to be playing the iconic Jedi master once more, having first been cast as the young Obi-Wan in 1999's Star Wars: The Phantom Menace.
The actor also made voice appearances in Star Wars: The Force Awakens and Star Wars: The Rise of Skywalker.
"It'll be just great to do it again," he said. "I did my last one in 2003, and it's such a long time ago.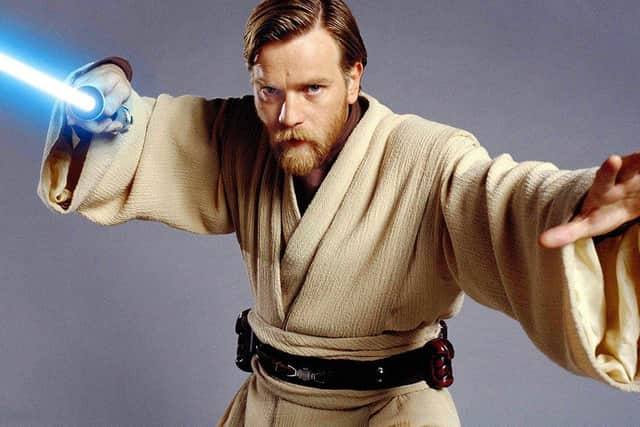 "The idea of doing it again now is just more exciting even than it was then, I think. I'm just thrilled to get a chance to play him again."I've always felt that there was a story about him between my ones and [original Obi-Wan actor] Alec Guinness's ones, and that's what we're gonna do."
What will the series be about?
Little is known about the plot of the upcoming series, but we do know it will take place eight years after Star Wars: Revenge of the Sith. This means that Obi-Wan will be somewhere between where fans last saw McGregor appearing as the Jedi Master, and the older version of the character first introduced to viewers in Star Wars: A New Hope.
Obi-Wan Kenobi has appeared several times throughout the Star Wars saga. The character, first played by Alec Guinness, was first seen in Star Wars: A New Hope where he acted as Luke Skywalker's mentor in the ways of the Jedi. After a message sent by Princess Leia begging Obi-Wan for help, the call would spark Luke's call to adventure and the return of Kenobi to the galactic stage.
In the prequel movies, viewers are introduced to a younger Obi-Wan under the training of Qui-Gon Jinn. Fans learned that he was originally trained by Grand Master Yoda, and would go on to be put in charge of the training of Anakin Skywalker, the Jedi who later becomes Darth Vader.
Kenobi is known to be an outcast, an outlaw, and a powerful general during the Clone Wars, as well as a teacher, a student, a friend, and even a father figure. He played a central role in some of the most important parts of Star Wars, including delivering Luke and Leia Skywalker to their new homes after the death of their mother, Padme.
A message from the Editor:
Thank you for reading this article. We're more reliant on your support than ever as the shift in consumer habits brought about by coronavirus impacts our advertisers.
If you haven't already, please consider supporting our trusted, fact-checked journalism by taking out a digital subscription.
Comments
 0 comments
Want to join the conversation? Please or to comment on this article.