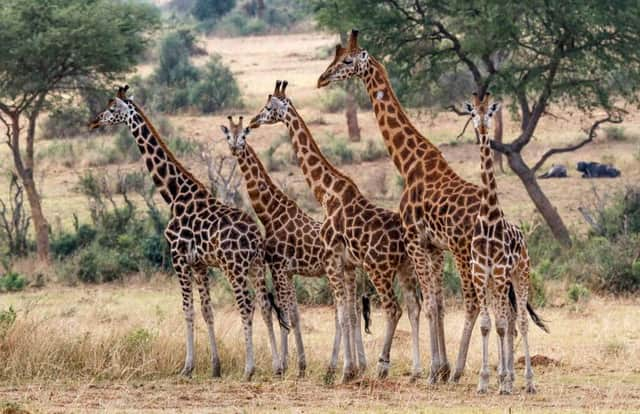 The Royal Zoological Society of Scotland (RZSS) will bring giraffes to the capital in the coming months, for the first time in more than 15 years.
A bachelor group of Rothschild's giraffes will be transported from another UK collection this summer, to be housed in a new £2.8m state of the art giraffe house currently nearing completion at a hilltop location at the zoo.
The animals will be joined at a later date by females, so that the zoo can contribute to the breeding programme for the species.
There are thought to be fewer than 1600 Rothschild's giraffes left in the wild. The RZSS hopes that, alongside conservation work in the species' native Africa, they can play a part in reviving the population.
David Field, RZSS' chief executive, said: "There are exciting times ahead. We are moving forward with giraffes and hopefully in the summer people will be able to see these wonderful animals here.
"All the major construction work on the giraffe house was completed last year so now it's all about landscaping, finishing off the interpretation and making sure all the elements are in place for when the giraffes are ready to come.
"I'm planning on having them in before the school summer holidays. We intend to bring in a bachelor herd of five or six young giraffes initially, so that visitors have a fantastic experience. Then, later on we will bring in breeding females."
Edinburgh Zoo was home to giraffes from as early as the 1930s, but the animals have been absent in recent years due to a lack of an appropriate sized enclosure to care for them.
In the wild, giraffes are in decline with estimates of fewer than 100,000 left. Rothschild's giraffes represent one of the most endangered distinct populations.
Last year, the Glenmorangie whisky distillery announced a three year partnership with the RZSS and the Giraffe Conservation Foundation to protect the animals in the wild and create a habitat for them at Edinburgh Zoo.
The animals, which can tower up to 18ft (5.5m) tall, will be able to roam around a landscape the size of a football pitch, which staff describe as having "the best views" at the zoo.
Isolated populations of Rothschild's giraffes live in savannahs, grasslands, and open woodlands of Uganda and Kenya. They are feared to be regionally extinct from South Sudan and northeastern Democratic Republic of the Congo. Rothschild's giraffes mate at any time of the year and have a gestation period of 14 to 16 months, typically giving birth to a single calf. They live in small herds, with males and females and their calves living separately, only mixing for mating.
Mr Field said his aim is that "everyone who comes to the Zoo can get slobbered on from a giraffe."
The new giraffe house and its unique landscape has been built using ring-fenced funds secured prior to the coronavirus pandemic.
The RZSS, which had to borrow £5 million last year to stay afloat in the absence of income from visitors, need almost £700,000 per month to keep going.
A message from the Editor:
Thank you for reading this article. We're more reliant on your support than ever as the shift in consumer habits brought about by coronavirus impacts our advertisers.
If you haven't already, please consider supporting our trusted, fact-checked journalism by taking out a digital subscription.