Eve Branson: who was Richard Branson's mum who died from Covid?  the Virgin founder's tribute to her
The billionaire entrepreneur's mother was once saved from a fire by Kate Winslet
On 12 January, Richard Branson confirmed his 96-year-old mother on 8 January, from the impact covid had on her health.
The Virgin Atlantic founder described his mother, Eve Branson, as "fearless", and attributed his success and life values to the upbringing provided by her and his later father, who died in 2011.
But who was Eve Branson, did she work for her son Richard and what has he said about his mum?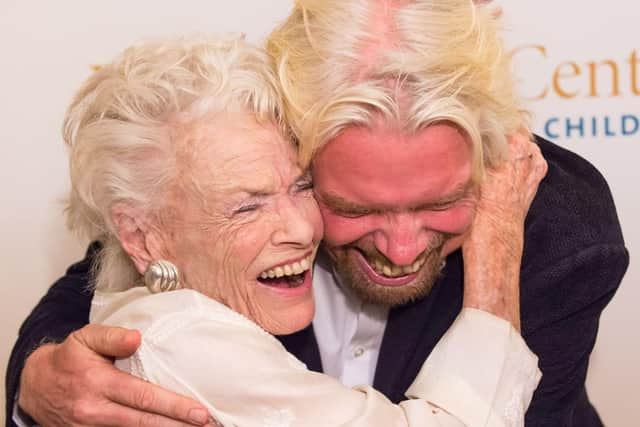 Evette Huntley Branson had spent her early life performing in the West End, enlisting in the Women's Royal Navy Service during the Second World War and touring Germany as a ballet dancer after the war.
She had three children, Richard, Vanessa and Lindy, and was a grandmother of 11 and great-grandmother of 10.
Eve was famously saved by actress Kate Winslett after a fire broke out at Richard's 14-bed home on a Caribbean Island in August 2011.
The mother of three spent her life raising her children, before moving on to raise awareness and funds to improve the lives of women and young girls in the Atlas Mountains in Northwestern Africa.
She also helped provide access to education and healthcare to those in need.
Eve had managed to "fight off the virus, but had expended all of her energy in the process".
What are the Eve Branson Foundations?
Eve Branson spearheaded the Eve Branson Foundations, which launched in 2005 and are based in Morocco.
The charitable foundations have a mission to "provide young people with artisanal skills-training and to preserve traditional Moroccan and Berber crafts, enriching the lives of local families from Atlas Mountain communities."
Following her death, Richard told how she "set about teaching the local community creative skills that they can use to set up their own businesses, work the Foundation continues to do wonderfully today with Virgin Unite's support.
"She's always been a tireless advocate for social empowerment and child welfare and continued spending time in Morocco, inspiring and supporting the amazing community, right to the end of her life."
How did she inspire Richard Branson?
Richard Branson has said that his mother taught her family the "importance of hard work, of not taking yourself too seriously, of treating people how you wish to be treated, of entrepreneurship, and so much more."
He added that she was "always working on a project", describing his mother as "inventive, fearless, relentless — an entrepreneur before the word existed."
According to Branson, his mother financed the creation of his multinational company, Virgin in 1970, which made more than £16bn in 2019.
Eve gave Richard £100 from the sale of a necklace she had been allowed to keep after she found it in Shamley Park, Guilford.
She had handed it in to the police but it was returned to her when the owner never came forward. Richard commented that "without that £100, I could never have started Virgin."
The name of one of Virgin Galatic's spacecraft, VMS Eve, is named after Branson's mother. He said of her: "She will always be my mothership."
It is not thought that his mother was ever involved in or worked for any of his businesses.
What did Richard Branson say following his mother's death?
He wrote: "As for so many of us in these days of Covid, it feels so strange that the person who has always been there for us, with such zest for life, is gone.
"My sisters Lindy and Vanessa and I were so lucky to grow up with mum and dad as our parents, instilling values that have lasted a lifetime...They showed us how family is the most important thing in the world, and surrounded us with love and encouragement."
He spoke about her missions in Morocco and how they began while the family was preparing for the global Virgin hot air balloon challenge.
"Mum was a delightful writer; her freewheeling autobiography, Mum's The Word, tells the full story of her remarkable life. She often sent little notes to us, and composed mischievous, heartfelt poems," he said.
He finished by sharing one of her many notes to him, which read: "Everyone is precious and all loved. There's room in my heart for even more, so bless you all, looking forward to building sandcastles on the beach."