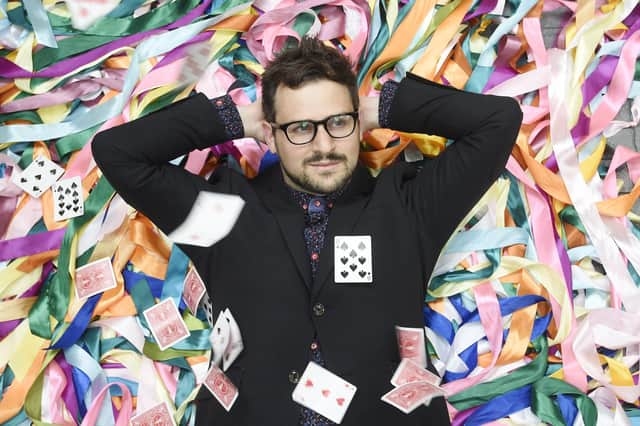 When scientist, magician and Britain's Got Talent favourite Kevin Quantum turned to the internet a year ago as the first lockdown put paid to live performances, like so many entertainers he was forced to step back and reinvent his act.
The supremo of MagicFest, Edinburgh's International Magic Festival, recalls, "As lockdown kicked in, like millions of parents around the country, I was stuck at home with kids that couldn't go to school. I wanted to do my bit. As a little project, my seven-year-old daughter Olivia and I decided to film a magic trick a day, teach people how to do it and also share the science behind how it worked."
At the time Kevin had no idea just how long lockdown would last... or how popular his workshops, the Quantum Magic Lab, would prove.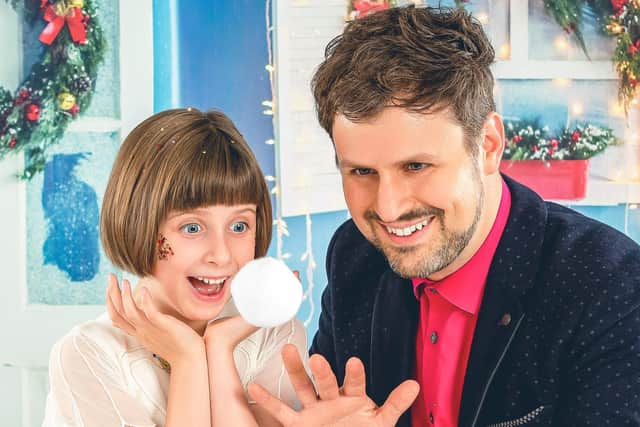 "It ran to just over 40 lessons, which I thought was a mammoth effort," he laughs. "That's how I got the nickname the 'Joe Wicks of Magic'.
"When I saw what he did, I thought, 'What a brilliant idea.' When I saw the optimism and hope that came from him just saying, 'I'll be your PE teacher', I just loved it. I wanted to do the same by giving everyone who was stuck at home a wee bit of escapism in their day, a bit of magic. That was my motivation. I wasn't really expecting any financial reward, it was just to keep me busy, keep me optimistic and to give me something to do with my daughter because schools just didn't know how to do remote learning back then."
He confesses that, as his online workshops took off, he began pitching the idea "relentlessly" to the BBC. Eventually it paid off.
"The BBC were looking for content and investing a whole bunch of money into educational programming, which was exactly what I was doing and I wondered if perhaps some of that money could come my way. So I sent them my YouTube channel and they really liked it. They decided to take three of the lessons based around gravity and change them into a space-themed episode for BBC Bitesize."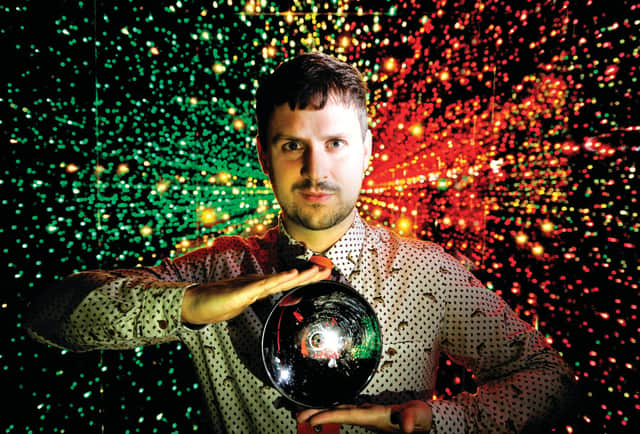 Kevin filmed that show in his living room, in one of two "home-made" studios he has now created, it was a steep learning curve he admits.
"I recorded the show on my own, on my phone, in my living room. It was ground-breaking for me, discovering that we didn't need to have a camera crew and sound man turn up; just an iPhone, tripod, content, and a little thing to record good quality audio.
"I have two studios, the one at home I really like because I have my bookcase set up in the living room with all my magic books. Bookcases have become the way to show off in the last year, as I'm a reader I have a good bookcase although I did add some books specially, one because of its title, a sci-fi novel called Quantum. I quite liked the idea of having a book with my stage name there. I haven't actually read it yet, my wife got it for me from a second hand book store before lockdown. She said, 'You should read this, it's got your name on it', but, embarrassingly, it has just ended up becoming a prop."
For Kevin and Olivia, filming together proved a priceless father/daughter bonding opportunity, and the proud dad declares, "Olivia has loved it, we've had some great moments where she ended up being better than me at some of the tricks. That's the great thing about these tricks, there's no barrier to access. Everything you need is in your dry recycling box or your stationery box; paper, pens, toilet roll, milk bottles.... stuff like that. Having Olivia there gave me an insight into teaching children, she was a great barometer for how the lessons would go but she is also really talented and shone in front of the camera. It was great to have a little side-kick to bounce things off."
And if one day Olivia turns the tables and dad becomes her sidekick?
"I'd welcome that. If she goes into magic, fantastic. I don't mind. I want her to find something that she's happy doing."
He recalls, "I remember it was a bit nerve-wracking for my folks when I dropped physics for magic some 15 years ago, but I really threw myself into my new career so I want to adopt that same philosophy they had, that way I won't have a heart attack if after going to university she says she wants to do something completely different."
At a time when work is hard to come by employment in the entertainment word, Kevin has managed to keep busier than many, Quantum Magic Lab capturing the imaginations of another two Scottish companies.
"I spent the last summer holidays doing magic lessons for employees of a large finance company. I also did stuff videos for a Scottish start up, making educational videos, so there were unexpected spin offs that helped pay the bills."
One thing hugely affected by lockdown was MagicFest, with theatres closed, he moved the 2020 edition online. This year, he hopes it can return to Capital stages.
"Magic Fest moved to December some time ago, last year that meant taking it online, hopefully this year we will be back to normal. I'm desperate to get back on stage. If MagicFest were to fall at the same time lockdown restrictions are lifted I'll try to find the biggest auditorium I can, give away as many tickets as feasible to NHS staff, expand the bill from just magicians and stage a massive variety show. Actually I'd like do that whenever the restrictions lift to welcome everyone back into theatres." Visit Quantum Magic Lab here
A message from the Editor:
Thank you for reading this article. We're more reliant on your support than ever as the shift in consumer habits brought about by coronavirus impacts our advertisers.
If you haven't already, please consider supporting our trusted, fact-checked journalism by taking out a digital subscription