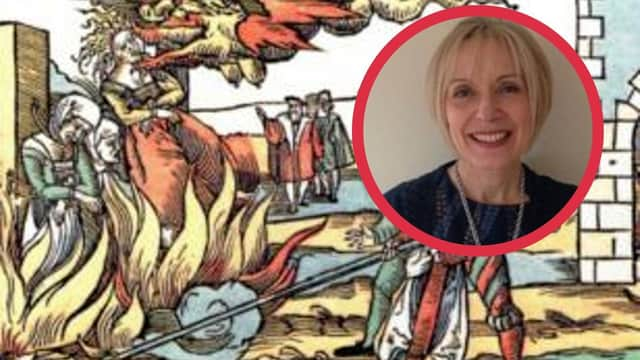 Professor Nicola Ring will lead the research into the 150 'witches' who were in fact nurses and midwives (Photo: Heritage Doncaster and Edinburgh Napier).
The team, from the Nursing and Midwifery Subject Groups in the School of Health and Social Care, will investigate the stories of these individual nurses and midwives, documenting who they were, and reflecting on their practices from today's healthcare perspective.
The history of nursing research project is being funded by the Royal College of Nursing (RCN) Foundation as part of its programme of work to celebrate the International Year of the Nurse and Midwife.
Dr Nicola Ring, who is leading the project, said: "I am delighted we have been awarded funding from the RCN Foundation to investigate this over-looked part of nursing history.
QC Claire Mitchell is running the Witches of Scotland campaign with author Zoe Venditozzi (Photo: Ian Georgeson).
"Telling the stories of these Scottish women and men cruelly and unfairly accused and punished for helping the sick and women in childbirth highlights the injustices these people faced."
The research supports Claire Mitchell QC and Zoe Venditozzi in their 'Witches of Scotland' campaign, which seeks posthumous justice - a legal pardon for those convicted of witchcraft, an apology for all those accused, and a national memorial dedicated to their memory.
Scotland's Witchcraft Act was introduced in 1563 and it was not until 1736 that the act was repealed, ensuring that the prosecution of witches was banned.
However, in this period, nearly 4,000 people – with around 84% of those suspected being women – were accused of witchcraft in Scotland.
The accused were imprisoned and brutally tortured until they confessed their guilt – often naming other 'witches' in their confessions.
Most of those accused are thought to have been executed as witches, being strangled and then burned at the stake, leaving no body for burial.
People were accused of being witches for many reasons- some were mentally ill and some had land and money others wanted.
According to 'Wierus', a 17th century witchcraft scholar, people accused of being witches were "ordinarily silly old women whose age and sex disposeth them to melancholy, and whose melancholy disposeth them to a madness."
However, many of those accused and executed as being 'witches' were guilty of nothing more than helping to care for others during sickness and childbirth – they were early practitioners of midwifery and nursing.
Claire Mitchell QC said: "Zoe Venditozzi and I (Witches of Scotland) are delighted that this work is being done to investigate and record the history of Scottish women and, in particular, those who were caught up in witchcraft allegations.
"We know from our research that some of the women and men were healers – involved in folk medicine and early midwifery – who were prosecuted for witchcraft and paid with their life.
"This work shedding a light on this tragic history is important."
Deepa Korea, Director of the RCN Foundation, said: "We are very pleased to fund this project as part of our programme of work to mark the International Year of the Nurse and Midwife.
"This is an important project which will not only document the experiences of these early nurses and midwives and the injustices they faced but provide a fresh look at the early role and perceptions of nursing and midwifery, prior to the accepted Victorian archetype."
A message from the Editor:Thank you for reading this article. We're more reliant on your support than ever as the shift in consumer habits brought about by Coronavirus impacts our advertisers.
If you haven't already, please consider supporting our trusted, fact-checked journalism by taking out a digital subscription.