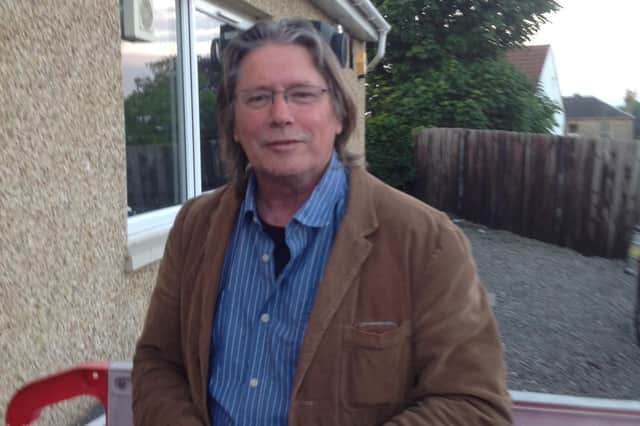 Journalist, broadcaster, Borderer, nationalist, much-loved husband, dearest dad, granddad, faithful friend and trusted colleague. The list could go on. Derek Bateman, the newspaper reporter turned broadcast journalist, podcaster and feared interrogator of evasive politicians, was much more than all things to all men and women.
He displayed, even when we first met as teenage trainee journalists in a shared bedsit in Edinburgh in 1968, the characteristics of the consummate news professional. He had a disdain for first-person reportage and a constantly inquiring, analytical mind underpinned by a blunt scepticism of officialdom and authority which brought him into regular conflict with tutors and senior staff on our Scotsman Publications training scheme. These attributes were to follow him throughout his life, sadly dogged latterly by ill-health and untimely death last December.
Political editor of this newspaper at its launch in August 1988, for a subsequent 15 years he was a hugely-respected presenter of BBC's radio flagship Good Morning Scotland. Thereafter he contributed to almost every political programme output from BBC Scotland before turning internet broadcaster and ScotNat commentator.
Two years earlier while working for the then-titled Glasgow Herald in its Edinburgh office, he co-wrote with colleague Derek Douglas, the inside story of the capital's disastrous 1986 Commonwealth Games. The book, Unfriendly Games: Boycotted and Broke, lucidly exposed Robert Maxwell's myth that he had saved the event which had been shunned by half the Commonwealth in protest against Prime Minister Margaret Thatcher's refusal to apply economic sanctions on the South African apartheid regime.
Derek epitomised the heydays of late 20th century Scottish journalism; independent of mind, trusted, resolute, focused, fearless and unwavering in his absolute commitment to one abiding tenet – getting the truth.
He had a dry – some said ascerbic – wit. Blair Jenkins, who became Head of News and Current Affairs (HNCA) during Derek's tenure on GMS, later recalled:
"A few days after I got the job… I was in the newsroom for the Good Morning Scotland debrief after the programme came off air. I hadn't seen the papers but one of the tabloids was carrying an overly positive piece on my appointment and why I was the right choice. Derek placed the paper on the desk in front of me and gave me a deadpan look. 'They clearly didn't dig deep enough,' he said, returning to his seat."
His newspaper career had seen him experience notable editors from Alastair Dunnett and Arnold Kemp to this title's launch editor Andrew Jaspan, whom he later described as "a challenge".
His writing style was objective, terse and avoided flowery metaphor relying instead on carefully pointed facts for drama and impact. His radio and TV interview technique was honed on the whetstone of Scottish print journalism. It called for stubborn pursuit of facts, rapid assimilation of complex information, and an innate ability to focus only on key data, discarding spurious side issues.
Derek was not fooled by anyone, regularly disarming politicians with easy discourse before eviscerating them with one or two masterful questions. He was also entirely unassuming and regarded his considerable professional talents merely as "just doing the job".
It's not about me; it's about the story, he would say.
This rich array of skills took Derek around the world covering two US presidential elections from Washington, the handover of Hong Kong to China in 1997, the Irish Troubles from Belfast and Dublin, Quebec's independence campaign and closer to his heart, the opening of Holyrood and the campaign for Scottish independence. They delivered him a broad international perspective of current affairs.
Maurice Smith, executive producer at TVI Vision, which hosted the Bateman Broadcasting podcasts, recalls: "Derek emerged as a keen Yes supporter but his journalistic instincts told him above all that he should be fair and treat all opinions equally. He was a very good interviewer. Above all he was an enthusiast for all things Scottish, from rugby to the story of Thomas Muir of Huntershill.
"When we launched his podcast in 2014, he was happiest discussing history and culture with the likes of the social historian Billy Kay, playwright Peter Arnott or the author and contemporary, Peter May. When he left the BBC we launched the podcast with the intention of doing 12 or 13 shows in the run-up to the September referendum, but it carried on for nearly four years and proved very popular."
He loved his home town of Selkirk, its history and traditions; there could never be any doubt on which side of the Border his heart lay with perhaps the occasional concession to a glass of Pinot Noir. Family was always his great refuge and with a small miracle to which only he knew the key, Derek surrounded himself with wonderful strong women: his first wife and schooldays sweetheart Alison; then his former BBC editor Judith Mackay, herself a formidable journalist; four daughters and two grand-daughters. Perhaps he shielded himself a little behind their uniquely feminine characteristics of empathy, open affection and shared intimacies.
Only once did Derek publicly admit failure. In a heart-rending newspaper account of caring for his first wife Alison in her last days before she died of cancer on his 50th birthday in 2001, Derek confessed to a deep sense of impotence that he had been unable to ease her suffering: he wrote a searing plea for a government rethink on euthanasia.
His ability to remain privately focused on whatever was in front of him was to be admired. Few were witness to his battles with ill-health in recent years; he underwent a kidney transplant in 2018 thanks to an indirect donation by his wife Judith via the UK donor swap scheme. Some regarded him as cold and blunt, and in truth, he could occasionally appear aloof but he revealed something more of the private man on Twitter, confessing, "this woman brought light to my darkest hour, gave me two children and now gives me the gift of life itself – all you need is love."
Derek leaves behind his wife Judith; daughters Eilidh and Lucy to his first marriage; daughters Hannah and Clara, and two grand-daughters, Amaya and Bea. Plus a legacy of quality journalism that will be hard to equal.
•Gordon Mack, former Digital Media Editor of The Herald, began his journalism career at Scotsman Publications with Derek in Edinburgh in 1968.