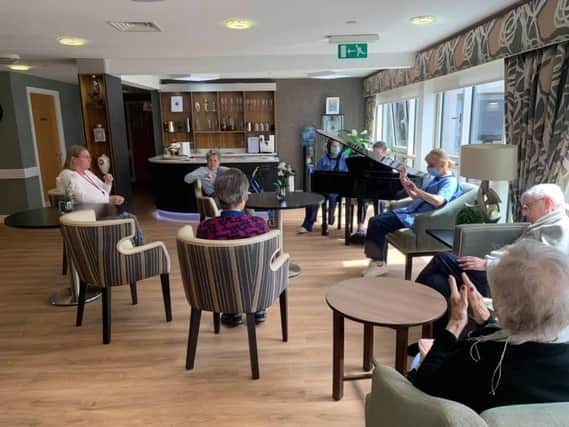 The Edelweiss Choir has been set up by Susan Gray, dementia unit team leader at the Rubislaw Park Care Home in the city. Meeting every Tuesday, the fun-filled group can point to some amazing successes.
Care home manager Gayle Bain said their dementia unit is home to a lot of younger people with dementia, and they try to keep the activities vibrant, imaginative and fulfilling.
"Many of these residents have very limited speech and memory issues," she said, "but team leader Susan noticed that if they were watching the TV, the residents were singing along.
"She set up the choir, and it has proved such a success. With the lockdown, many of our residents were missing out on their normal chance to sing at church on a Sunday, so Susan created the choir. The choir was set up and supported under a risk assessment ensuring the safety of our residents and staff. This was shared with our local public health team to ensure we adhered to all local and national guidance.
"We've got one lady who has had a severe stroke and has very limited speech, yet she can sing beautifully. Another was a very keen pianist in her younger days, and accompanies the choir in every song."
As a well as the sensory and therapeutic side to the choir, there's a strong social element.
"After the choir finishes, we have afternoon tea and a glass of fizz if the residents wish to partake," says Gayle. "It's very popular. In these times when there are still restrictions and people are living within their bubbles, it is such a good avenue. Susan is looking at ways to join up with units within the care home to create a much larger, virtual choir."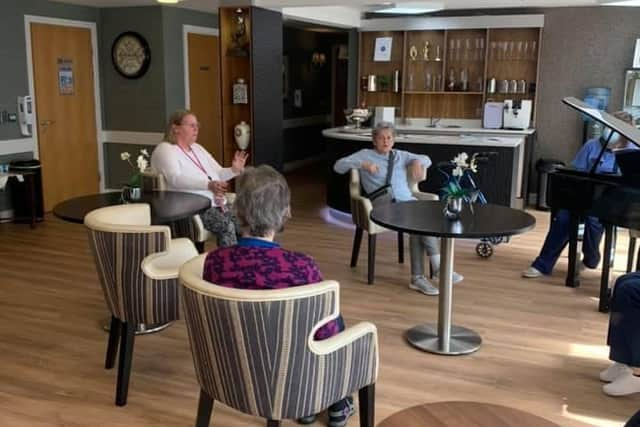 Susan is a former dancer, and a member of the amateur dramatics circuit in Aberdeen, and before moving to Rubislaw Park to work six years ago she spent 25 happy years as front of house at His Majesty's Theatre in the city. Her joy of music and dance has inspired the project.
"It developed during lockdown when we watched a lot of musicals; restrictions meant we were not able to sing along, but everyone wanted to," she said.
"So when the restrictions eased, I started a small socially distanced choir within one unit at the home, though this is likely to include the others soon too.
"The residents all love their musicals, and had a vote on the choir name. They picked Edelweiss, from The Sound of Music, which is their favourite, as the flower represents resilience, courage and bravery, which they thought was very fitting for the pandemic."
And while performances are limited to the home itself for now, Susan has plans to join with other community groups for a more public performance by the end of the year.
"This is something that gives them such joy, and it is so good for their well-being too. One of the resident's family members is getting them all personalised choir t-shirts to wear. They are loving it."
Rubislaw Park, on the west side of Aberdeen, was recently visited for an unannounced Care Inspectorate visit, and was delighted to receive a "very good" rating for well-being. The inspectorate report stated: "Rubislaw Park had a warm, welcoming and relaxed atmosphere. Residents and staff took time to share their thoughts and experiences with us, giving us a better perspective of people's outcomes from the service.
"A new manager had come into post in November 2020, which appeared to have had a positive impact on the services provided. The staff team worked well together, were pro-active and improvement focused.
"This meant that any issues or concerns identified were dealt with quickly and appropriately, contributing positively to people's overall experiences."
The report singled out the attention given to social events and individual requirements, adding: "We saw people enjoy dance and exercise classes, gardening and baking. Some people had one-to-one time, where they could spend time doing puzzles or chatting if this was what they wanted."
Rubislaw Park has won a coveted top 20 carehome.co.uk award for three years in a row, and in 2020 was the only Aberdeen home to make the list – testament to the fantastic care and facilities that are on offer.
It's well worth booking a no obligation, Covid-safe tour if you are looking for warm, friendly, five-star accommodation for yourself or a loved one.
To watch a video tour of Rubislaw Park, click here.