Deeside pupils pipe up with national award
Local pupils are on the road to a life-time of piping success, thanks to an award of bagpipes, on loan from the Scottish Schools Pipes and Drums Trust.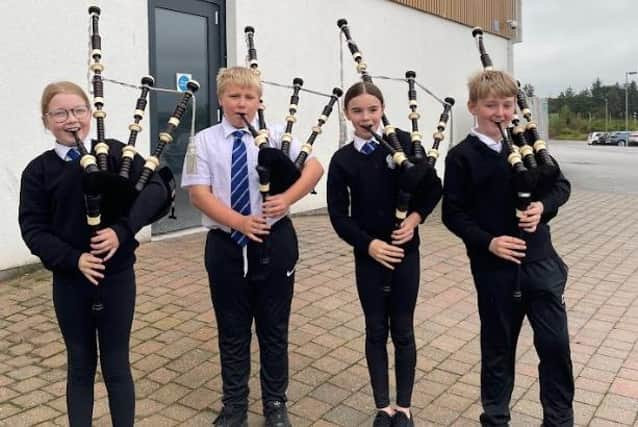 Ten pupils from Alford Academy and associated primary schools Alford Primary, Cluny School, Midmar School, and Dunecht School will benefit from the award. Pictured are some of the pupils with their new pipes.
Dougie Trueman, Faculty Head of Performing Arts at Alford Academy said: "The SSPDT bagpipe loan scheme is an absolute game changer for us. It has enabled us to provide our younger chanter players with new sets of pipes which in turn has motivated them to integrate fully with our pipe band at a much earlier stage.
"Our aim in the coming months is to provide the opportunity for chanter players at Alford Academy or any of our cluster schools to progress onto bagpipes and to engage in the SSPDT Music Enterprise Award."
Alexandra Duncan, director of SSPDT said: "The idea of the instrument loan is to give young players time to get to grips with the pipes and time to raise funds to buy their own set which cost upwards of £700. We also run a Music Enterprise Award scheme which helps young pipers to raise these funds in enterprising ways; by playing at weddings and other events, as well as busking and other enterprising activities, young pipers can soon raise the cash they need."
Ms Duncan adds that the pipes and drums are very popular with youngsters, and help raise attainment as well as build resilience, teamwork and confidence.
The Scottish Schools Pipes and Drums Trust is a registered charity promoting the playing of pipes and drums in Scottish state schools. The charity offers cash grants for tuition and other related band costs, free bagpipe and b-flat chanter loans, paid trainee internships, and organises the Scottish Schools Pipe Band Championships - the biggest schools piping competition in the world.
The Trust has helped to establish piping and drumming tuition in a number of schools in Aberdeenshire, and would welcome teachers, parents and community groups to get in touch to discuss how SSPDT can support them to bring piping and drumming tuition to schools in their local area.
Enquiries about funding and/or instrument loans can be made at www.sspdt.org.uk or follow @Piping4Pupils on social media.